Four (more) episodes from the classic TV series starring Gail Davis.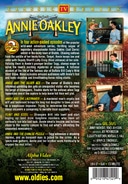 Price:
$

7

.30
List Price:
$8.98
You Save:
$1.68 (19% Off)
Available:
Usually ships in 5-7 business days
Also released as:
DVD Features:
Rated: Not Rated
Run Time: 1 hours, 45 minutes
Video: Black & White
Encoding: Region 0 (Worldwide)
Released: May 31, 2005
Originally Released: 1954
Label: Alpha Video
Packaging: Keep Case
Aspect Ratio: Full Frame - 1.33
Performers, Cast and Crew:
Entertainment Reviews:
[Annie Oakley] is played by Barbara Stanwyck and is a much beautified Annie, with eyelashes so thick you would think they might interfere with her sighting.
Full Review
George Stevens amply appreciates the showbiz synergy of performers and audiences in the carnival arena
Full Review
Description by OLDIES.com:
In four action-packed episodes of the popular wild-west adventure series, thrilling sagas of legendary sharpshooter Annie Oakley (Gail Davis) unfold in the dusty town of Diablo. Chasing outlaws from the saddle of her trusty horse, Target, Annie keeps law and order with Deputy Sheriff Lofty Craig (Brad Johnson) at her side. Helping them is Annie's younger brother Tagg, always eager to solve the town's exciting mysteries of suspense. A fictional account of the life of the famous star of Buffalo Bill Cody's Wild West Show, these episodes amazed audiences with Annie's fast and fancy shooting and breathtaking horse riding stunts.
Annie and the Silver Ace: The owner of Diablo's most infamous gambling den gets an unexpected visitor who becomes the target of kidnappers. Trouble starts for the outlaws when Tagg hypnotizes one of the captors to help Annie foil their evil plot.
Annie and the Lacemaker: A murdered man's cryptic last will and testament brings his long lost daughter to town as well as a suspicious imposter. Trying to determine the real heir, Annie uncovers a conspiracy to swindle local suppliers.
Flint and Steel: Strangers drift into town and start buying up land from longtime ranchers who have all curiously run into bad luck. Annie smells trouble and follows clues to the nearby canyon to find out what's attracting the unwanted newcomers.
Annie and the Chinese Puzzle: Tagg witnesses a shocking murder, and an innocent man is jailed for the crime. As a lynch mob gathers, Annie and her brother work frantically to expose the real killer.
Product Description:
This second volume of episodes from ANNIE OAKLEY (Gail Davis) sees the female gunslinger heading out into the Old West once again. Always quick to recognize some lawless citizens who are up to no good, Annie puts some jail-fodder behind bars in these four episodes from the show. Among them are "Annie and the Silver Ace," "Annie and the Lacemaker," "Flint and Steel," and "Annie and the Chinese Puzzle."
Keywords:
Movie Lovers' Ratings & Reviews:
Customer Rating:
Based on 609 ratings.

One of my favorite collections in the series.
Movie Lover:
Fan Tao
from
California
-- February, 11, 2014
Volume 2 contains some of the more interesting and entertaining episodes. "Annie and the Silver Ace" is from the first season and features frequent guest Harry Lauter as the owner of a gambling saloon whom Annie tries to reform. She is so nice to him, you wonder if he is an old flame (Harry appeared a dozen times on the show, though as different characters). Kid brother Tagg has an important role using hypnosis, of all things! Alan Hale, Jr., is very funny as the bad guy subject to Tagg's spell. "Annie and the Lacemaker", from the last season, has another unusual plot device where a lace dress helps to determine which girl is the true heir to a man's estate. Lots of mystery in this episode. "Flint and Steel", another season 3 episode, is a more traditional western story about some thugs who try to force ranchers off their land to grab it. Annie gets to do some sharpshooting here (using different jacketed bullets!) to save the day. She gets some help from one of the ranch wives - does she knows how to ride and shoot? Of course! "Annie and the Chinese Puzzle" (season 2) tells the story of how Annie and Tagg help a laundry owner (Key Luke) framed for a murder, with themes of bigotry and when to tell the truth. Overall, a great selection of episodes. You get to see the deepening relationship between Annie and Deputy Lofty - she practically proposes to him in one the episodes, and the growth of Tagg, who almost towers over Annie by the last season.
Similar Products
Product Info
Sales Rank: 32,097
UPC: 089218475299
Shipping Weight: 0.27/lbs (approx)
International Shipping: 1 item