Silent Comedy Marathon, Volume 10
The laughs never stop in this side-splitting collection of nine ultra-rare comedy shorts from the heyday of silent screen slapstick, featuring some of the biggest names of the era – and some of the most obscure!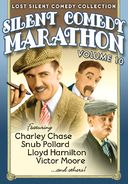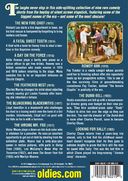 SALE:
$

5

.95
List Price:
$7.98
You Save:
$2.03 (25% Off)
Available:
Usually ships in 1-3 business days
DVD-R Details
Run Time: 2 hours, 27 minutes
Video: Black & White
Encoding: Region 0 (Worldwide)
Released: April 16, 2019
Originally Released: 1925
Label: Alpha Video
Performers, Cast and Crew:
Entertainment Reviews:
Description by OLDIES.com:
THE NEW FIRE CHIEF (1912):
Richard Lee starts a fire department in town, but his first rescue is hampered by forgetting to bring ladders and hoses.
A FATAL SWEET TOOTH (1914): A thief with a taste for honey tries to steal a beehive in this Keystone comedy.
A DAY ON THE FORCE (1915): Billie Reeves plays a barfly who poses as a police officer to get free drinks. Reeves was a British comedian who made movies in 1915 and 1916 before returning to the stage. Many consider him to be an important influence on Charlie Chaplin.
THE FEATHERED NEST (1916): Charles Murray changes his mind about rejecting homely country girl Louise Fazenda after learning she inherited a fortune.
THE BLUNDERING BLACKSMITHS (1917): Lloyd Hamilton is a blacksmith who challenges his rival to a boxing match over the hand of a fair maiden. Unfortunately, Lloyd isn't as good with his fists as he is with a hammer.
THE WRONG MR. FOX (1917): Victor Moore plays a down-on-his-luck actor who is mistaken for a preacher. He sees an excellent opportunity to get out of debt by stealing from the collection plate. Moore had a sixty-plus-year career in motion pictures, with parts in Swing Time (1936), Leo McCarey's Make Way for Tomorrow (1937), and even The Seven Year Itch (1955) with Marilyn Monroe.
ROWDY ANN (1919): Fay Tincher is a rowdy cowgirl whose parents send her to finishing school after she repeatedly beats up her prospective suitors. This is one of the few surviving films of groundbreaking comedienne Fay Tincher, dubbed "the female Chaplin" in publicity of the era.
THE DUMB-BELL (1922): Studio executives are fed up with a temperamental director going over budget on their new picture. They hire accident-prone actor 'Snub' Pollard to drive him over the edge so they can fire him. The real-life director of The Dumb-Bell is none other Charles Parrott, soon to become Charley Chase.
LOOKING FOR SALLY (1925): Charley Chase returns from a years-long trip abroad, only to find that his childhood sweetheart doesn't recognize him! He then goes to extreme lengths to prove that he's still the man for sweet little Sally. This was the last film in which Chase played his long-running "Jimmie Jump" character.
Similar Products
Product Info
Sales Rank: 15,937
UPC: 089218822192
Shipping Weight: 0.25/lbs (approx)
International Shipping: 1 item