The Lone Ranger
Never Take Off the Mask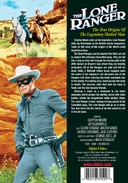 SALE:
$

5

.95
List Price:
$7.98
You Save:
$2.03 (25% Off)
Available:
Usually ships in 1-3 business days
More products that might interest you:
Classic Western Collection: 20 Full Color Vintage Movie Postcards (Movie Collectible)
$7.98
DVD Features:
Rated: Not Rated
Run Time: 1 hours, 9 minutes
Video: Black & White
Released: June 18, 2002
Originally Released: 1949
Label: Alpha Video
Encoding: Region 0 (Worldwide)
Packaging: Keep Case
Aspect Ratio: Full Frame - 1.33
Performers, Cast and Crew:
Entertainment Reviews:
Rating: 2/5
-- Gallops across our skulls for two and a half hours, pounding them into the same kind of desert as that on screen: a barren flatland with occasional rearing outcries of rock.
Full Review
Rating: F
-- Good news, Washington Redskins! For one glorious weekend in the summer of 2013, your unapologetically racist franchise is not the most grotesque pop culture representation of Native Americans!
Full Review
It's just dreadful and a failed attempt at a franchise that needs to ride off into the sunset and be forgotten forever.
Full Review
Rating: 2/5
-- The overlong plot lacks smarts; the action (a train wreck aside) lacks thrills; and the cascade of characters (including turns from Helena Bonham Carter and Tom Wilkinson) lack the necessary depth or spark.
Full Review
This isn't the complete disaster of Wild Wild West, but that's only because none of the $250 million was spent to turn Kenneth Branagh into a mechanical spider.
Full Review
Rating: 3/4
-- Often patently ridiculous, with plenty of outrageous stunts and off the wall humor, but that's part of its singular charm.
Full Review
The Dispatch (Lexington, NC)
Rating: 3/5
-- Flying as high as an eagle or scampering across the tracks like a lizard, Verbinski's camerawork is off the-chain and the visual-effects are first class.
Full Review
Description by OLDIES.com:
The True Origins Of The Legendary Masked Man

Clayton Moore stars as the legendary Lone Ranger with Jay Silverheels as his faithful Indian companion, Tonto, in this story of the origins of the West's most mysterious hero.

Six Texas Rangers, led by Captain Dan Reid, set out to capture the notorious Cavendish gang. They are led into a trap as they ride through the narrow path in the cliffs known as Bryant's Gap where they are brutally ambushed. All of the Rangers are shot and left for dead. Tonto, a Mohawk Indian scout, happens upon the scene of the massacre and discovers one of the Rangers half alive. Carrying the badly wounded man to the shelter of a nearby cave, Tonto nurses him back to health. The survivor, John Reid tells his story to Tonto and the two become friends.

Wearing a mask as a memorial to his fallen comrades and to protect his identity, armed with silver bullets, astride the magnificent white stallion, Silver, The Lone Ranger is born, vowing to bring justice to the Cavendish gang. The Lone Ranger will go on to strike fear and terror into the hearts of all who would do evil in the old west.
Product Description:
After the evil Cavendish Gang ambushes a group of Rangers, the lone survivor, with his Indian friend "Tonto," comes back to haunt them. The first 3 episodes of the original TV series condensed into feature form.
Keywords:
Movie Lovers' Ratings & Reviews:
Customer Rating:
Based on 371203 ratings.

Lone Ranger
Movie Lover:
michael sommer
from
saint germain en laye, Yvelines FR
-- May, 23, 2006
A classic story, classic character,which led to one of T.V.'s most legendary shows. The Superman of westerns, as in TRUTH JUSTICE AND THE AMERICAN WAY. Just what seems in need these days in times of a shakey identity crisis for America, and Americans, and how the world sees us.
The Origin of a Wonderful Hero
Movie Lover:
Nick
from
LONG ISLAND
-- February, 13, 2004
Return to those thrilling days of yesteryear when good valued television!
In this dvd, you'll learn the origin of one of America's greatest heroes... the Lone Ranger and his companion Tonto

I am a large Lone Ranger and classic television fan an this is one of the gretest examples of classic television. I reccomend it for kids and adults as I am a kid myself. Hi-Yo Silver Away!!!
Similar Products
Product Info
Sales Rank: 16,610
UPC: 089218315298
Shipping Weight: 0.27/lbs (approx)
International Shipping: 1 item