The Masked Man and Tonto return in four classic episodes from the long-running western-TV series.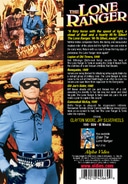 Price:
$

6

.90
List Price:
$8.98
You Save:
$2.08 (23% Off)
Available:
Usually ships in 5-7 business days
DVD Features:
Rated: Not Rated
Run Time: 1 hours, 35 minutes
Video: Black & White
Released: November 19, 2002
Originally Released: 1949
Label: Alpha Video
Encoding: Region 0 (Worldwide)
Packaging: Keep Case
Aspect Ratio: Full Frame - 1.33
Audio:
Performers, Cast and Crew:
Description by OLDIES.com:
"A fiery horse with the speed of light, a cloud of dust and a hearty Hi-Yo Silver! The Lone Ranger. 'Hi-Yo Silver, away!' With his faithful Indian companion Tonto, the daring and resourceful masked rider of the plains led the fight for law and order in the early west. Return with us now to those thrilling days of yesteryear. The Lone Ranger rides again!"
Episodes include:
Legion of Old Timers: Bob Kittredge (DeForrest Kelly) recruits the help of The Lone Ranger & Tonto in saving the Circle K Ranch from the clutches of a well known criminal, Red Devers.
Renegades: Indians are being framed for attacking army supply trains by a corrupt group of military men. The Lone Ranger & Tonto come to the aid of Chief Swift Eagle in an effort to clear the Indians and save them from expulsion to the Everglades.
Old Joe's Sister: Biff Baker shoots old Joe and throws him off a cliff, assuming his identity to fool his long lost sister and steal his gold. The Lone Ranger & Tonto save old Joe's life and make a plan to capture the culprit.
Cannonball McKay: Wells Fargo is plagued by stagecoach robbers. Renowned female driver Cannonball McKay inexplicably hires an ex-convict to help her. The Lone Ranger & Tonto solve the mystery.
Product Description:
Hi-yo Silver, away! A collection of classic The Lone Ranger episodes from 1949. Stars Clayton Moore and Jay Silverheels as the faithful Indian companion, Tonto. Includes "Legion of Old Timers," "Renegades," "Old Joe's Sister," and "Cannonball McKay".
Keywords:

Similar Products
Product Info
Sales Rank: 30,657
UPC: 089218406699
Shipping Weight: 0.27/lbs (approx)
International Shipping: 1 item