Samuel Z. Arkoff: FANEX Files - The Incredible Story of the Founder of American International Pictures
The life and times of American International Pictures Founder Samuel Z. Arkoff. Includes film clips from A.I.P. classics such as "The Day the World Ended", "I Was a Teenage Werewolf", "The House of Usher", and many others.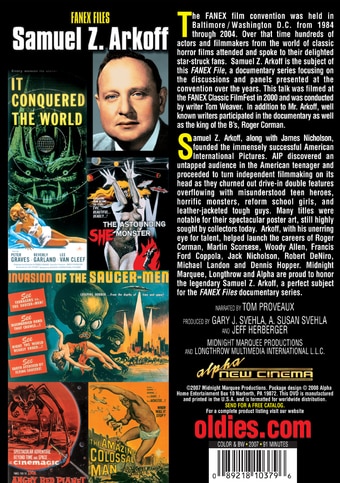 Price:
$

6

.90
List Price:
$8.98
You Save:
$2.08 (23% Off)
Available:
Usually ships in 5-7 business days
DVD-R Details
Rated: Not Rated
Run Time: 1 hours, 31 minutes
Video: Black & White / Color
Encoding: Region 0 (Worldwide)
Released: October 28, 2008
Originally Released: 2007
Label: Alpha Video
Performers, Cast and Crew:
Entertainment Reviews:
Description by OLDIES.com:
The FANEX film convention was held in Baltimore/Washington D.C. from 1984 through 2004. Over that time hundreds of actors and filmmakers from the world of classic horror films attended and spoke to their delighted star-struck fans. Samuel Z. Arkoff is the subject of this FANEX File, a documentary series focusing on the discussions and panels presented at the convention over the years. This talk was filmed at the FANEX Classic FilmFest in 2000 and was conducted by writer Tom Weaver. In addition to Mr. Arkoff, well known writers participated in the documentary as well as the king of the B's, Roger Corman.

Samuel Z. Arkoff, along with James Nicholson, founded the immensely successful American International Pictures. AIP discovered an untapped audience in the American teenager and proceeded to turn independent filmmaking on its head as they churned out drive-in double features overflowing with misunderstood teen heroes, horrific monsters, reform school girls, and leather-jacketed tough guys. Many titles were notable for their spectacular poster art, still highly sought by collectors today. Arkoff, with his unerring eye for talent, helped launch the careers of Roger Corman, Martin Scorsese, Woody Allen, Francis Ford Coppola, Jack Nicholson, Robert DeNiro, Michael Landon and Dennis Hopper. Midnight Marquee, Longthrow and Alpha are proud to honor the legendary Samuel Z. Arkoff, a perfect subject for the FANEX Files documentary series.
Keywords:
Similar Products
Product Info
Sales Rank: 32,095
UPC: 089218103796
Shipping Weight: 0.25/lbs (approx)
International Shipping: 1 item