Legion of Missing Men
In the epic tradition of Beau Geste a group of foreign legionaries are captured and tortured by Arabs.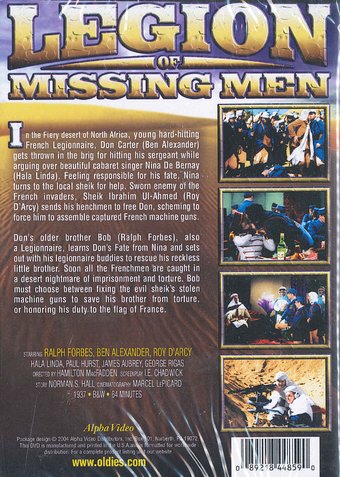 SALE:
$

5

.95
List Price:
$7.98
You Save:
$2.03 (25% Off)
Available:
Usually ships in 1-3 business days
DVD Features:
Rated: Not Rated
Run Time: 1 hours, 4 minutes
Video: Black & White
Released: August 31, 2004
Originally Released: 1937
Label: Alpha Video
Encoding: Region 0 (Worldwide)
Packaging: Keep Case
Aspect Ratio: Full Frame - 1.33
Performers, Cast and Crew:
Entertainment Reviews:
Rating: C+
-- Unfortunately it lacks the action needed for such a stirring adventure film.
Full Review
Ozus' World Movie Reviews
Description by OLDIES.com:
In the fiery desert of North Africa, young hard-hitting French Legionnaire, Don Carter (Ben Alexander) gets thrown in the brig for hitting his sergeant while arguing over beautiful cabaret singer Nina De Bernay (Hala Linda). Feeling responsible for his fate, Nina turns to the local sheik for help. Sworn enemy of the French invaders, Sheik Ibrahim Ul-Ahmed (Roy D'Arcy) sends his henchmen to free Don, scheming to force him to assemble captured French machine guns. Don's older brother Bob (Ralph Forbes), also a legionnaire, learns Don's Fate from Nina and sets out with his legionnaire buddies to rescue his reckless little brother. Soon all the Frenchmen are caught in a desert nightmare of imprisonment and torture. Bob must choose between fixing the evil sheik's stolen machine guns to save his brother from torture, or honoring his duty to the flag of France.
Product Description:
Members of the French Foreign Legion stationed in the Sahara Desert vie for the love of a dancing girl, but when she is kidnapped by the evil Sheik Ahmed, they band together and attempt her rescue.
Keywords:
Movie Lovers' Ratings & Reviews:
Customer Rating:
Based on 174 ratings.

Fair Foreign Legion flick
Movie Lover:
call me Z
from
somewhere out there
-- May, 12, 2006
Ancient Monogram French Foreign Legion adventure with legionaries battling Arabs in North Africa. Several machine guns are captured by Arabs from a transport across the desert, but they don't know how to assemble them. Meanwhile, a Legionnaire named Don gets sent to the stockade for fighting with his sergeant over a woman. The Arabs bust him out of jail and kidnap his brother and some friends so they can coerce him to assemble the machine guns. When he refuses, they hang him from one arm until his brother agrees to build the guns and then even to use them against their own troops. The battle scenes are okay, but are confined to brief segments at the beginning and end, leaving you with a slow, talky stretch in the middle. But, the whole movie's only a little over an hour long, anyway, so if you're into French Foreign Legion flicks, it's still not a bad bet.
Similar Products
Product Info
Sales Rank: 8,421
UPC: 089218448590
Shipping Weight: 0.27/lbs (approx)
International Shipping: 1 item