Little Lord Fauntleroy
A delightful family drama based on a beloved Victorian-era tale of a well-mannered Brooklyn lad who discovers he is heir to a British title and a vast fortune.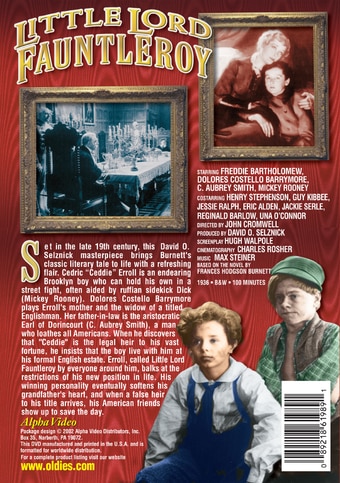 SALE:
$

5

.95
List Price:
$7.98
You Save:
$2.03 (25% Off)
Available:
Usually ships in 1-3 business days
DVD Features:
Based On the novel by Frances Hodgson Burnett
Rated: Not Rated
Run Time: 1 hours, 40 minutes
Video: Black & White
Released: February 18, 2003
Originally Released: 1936
Label: Alpha Video
Encoding: Region 0 (Worldwide)
Packaging: Keep Case
Aspect Ratio: Full Frame - 1.33
Performers, Cast and Crew:
Starring

Mickey Rooney

&

Freddie Bartholomew

Performer:

C. Aubrey Smith

,

Dolores Costello

,

Guy Kibbee

,

Henry Stephenson

,

Reginald Barlow

,

Constance Collier

,

Una O'Connor

,

May Beatty

,

Joan Standing

,

Jessie Ralph

,

Joseph Tyzack

,

Walter Kingsford

,

Tempe Pigott

,

Eric Alden

,

Jackie Searl

,

Ivan Simpson

,

E.E. Clive

,

Lionel Belmore

,

Gilbert Emery

,

Alex Pollard

,

Daisy Belmore

,

Helen Flint

,

Lawrence Grant

,

Eily Malyon

,

Robert Emmett O'Connor

,

Elsa Buchanan

&

Prince

Directed by

John Cromwell

Edited by

Hal C. Kern

Screenwriting by

Hugh Walpole

Composition by

Max Steiner

Story by

Frances Hodgson Burnett

Produced by

David O. Selznick

Director of Photography:

Charles Rosher
Entertainment Reviews:
Rating: C+
-- An excellent children's pic, for others the contrived melodrama might at best only be bearable.
Full Review
Ozus' World Movie Reviews
The childhood classic handsomely turned out by Metro-Goldwyn-Mayer.
Full Review
Rating: 4/5
-- Adaptation of classic novel is a charming fairy tale.
Full Review
Rating: 3.5/4
-- It's a simple children's story, idealistic and dangerously close to cloying, but in the best tradition of Old Hollywood, it's a real treat.
Full Review
Rating: 4/5 -- Still entertaining drama, though dated, starring Bartholomew and Rooney, two great child actors of the time.
Description by OLDIES.com:
Set in the late 19th century, this David O. Selznick masterpiece brings Burnett's classic literary tale to life with a refreshing flair. Cedric "Ceddie" Erroll is an endearing Brooklyn boy who can hold his own in a street fight, often aided by ruffian sidekick Dick (Mickey Rooney). Dolores Costello Barrymore plays Erroll's mother and the widow of a titled Englishman. Her father-in-law is the aristocratic Earl of Dorincourt (C. Aubrey Smith), a man who loathes all Americans. When he discovers that "Ceddie" is the legal heir to his vast fortune, he insists that the boy live with him at his formal English estate. Erroll, called Little Lord Fauntleroy by everyone around him, balks at the restrictions of his new position in life. His winning personality eventually softens his grandfather's heart, and when a false heir to his title arrives, his American friends show up to save the day.
Product Description:
Freddie Bartholomew (DAVID COPPERFIELD, CAPTAINS COURAGEOUS) plays Cedric Errol, a poor Brooklyn boy destined for greatness in this film based on the lovable story by Frances Hodgson Burnett. Although Ceddie doesn't know it, his deceased father was an English nobleman. When it becomes apparent that Ceddie is heir to an English title and an immense fortune, his mother (Dolores Costello Barrymore) takes him back to England, where they discover that her father-in-law, the earl of Dorincourt (C. Aubrey Smith), despises Americans. To win his birthright, Ceddie must struggle against false claims to his title as well as his grandfather's cantankerous disposition. Director John Cromwell (SO ENDS OUR NIGHT, OF HUMAN BONDAGE) at times considered LITTLE LORD FAUNTLEROY his finest film; with a graceful script by novelist Hugh Walpole, an excellent supporting cast, a buoyant sense of humor, and a gem of a performance from Bartholomew, he may well have been right.
Plot Synopsis:
A poor young lad finds his life changed when he leaves the streets of New York City to become an English lord.
Keywords:
Movie Lovers' Ratings & Reviews:
Customer Rating:
Based on 3790 ratings.

Little Lord Fauntleroy- First Rate Family Movie
Movie Lover:
N. Callahan
from
CT, US
-- January, 1, 2015
All sentimentalists should have a box of tissues handy for this one! A nice little movie for the whole family. As mentioned elsewhere, this DVD appears to
have the whole of the original (no cut scenes). Picture
quality is good considering the age of the film. I took
a half star off because there are a few spots where some strange artifacts appear on the picture. Not enough to hinder enjoying the movie though. I can't imagine watching any other version. Get It!!!
Slighty dusty drama still pleasing after all these years
Movie Lover:
kinovend
from
Grand Rapids, MI US
-- January, 31, 2004
Producer / studio chief David O. Selznick micro-managed his carefully selected film releases and his great showmanship produced an unequaled string of hits for several decades. Fauntleroy was no exception. Plenty of great character actors and actresses are on hand for this lavishly mounted production. So many of them are british that this may be mistaken for a british film. Mickey Rooney is restrained and appears in only a few scenes. C. Aubrey Smith, the Brit who popularized polo in Hollywood, always gives good value on screen, especially here. Henry Stephenson is good as the kindly barrister/lawyer. Alpha has produced the DVD from an only tv print, so expect an average amount of cue marks and splices. Picture and audio are acceptable, about average for Alpha.
Similar Products
Product Info
Sales Rank: 1,905
UPC: 089218619891
Shipping Weight: 0.27/lbs (approx)
International Shipping: 1 item