Of Human Bondage
The best film version of W. Somerset's Maugham's passionate novel. It tells of the ill-fated romance between a well-to-do crippled medical student and a floozy waitress. Bette Davis is magnificent.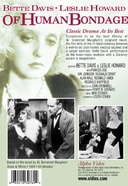 SALE:
$

5

.95
List Price:
$7.98
You Save:
$2.03 (25% Off)
Available:
Usually ships in 1-3 business days
Also available in a set:
Also released as:
DVD Features:
Based on the novel by M. Somerset Maugham
Rated: Not Rated
Run Time: 1 hours, 23 minutes
Video: Black & White
Released: November 27, 2001
Originally Released: 1934
Label: Alpha Video
Encoding: Region 0 (Worldwide)
Packaging: Keep Case
Aspect Ratio: Full Frame - 1.33
Performers, Cast and Crew:
Entertainment Reviews:
Rating: A+
-- Of Human Bondage (1934) was derived from the 1915 novel of the same name by W. Somerset Maugham. The tragic story's adaptation about a crippled doctor's destructive and compulsive passion for a coarse waitress was advertised with the tagline...
Full Review
Rating: B+
-- The first and best of three Hollywood versions of Maugham's novel boasts a grand dramatic performance from Bette Davis, who scandalously was snubbed by the Academy; she was a write-in candidate for the Oscar.
Full Review
Rating: 3/5 -- Dated but compelling drama
Film Journal International
Rating: 3/5 -- Strictly so-so on its own terms, but invaluable as Bette Davis' star-launching platform.
Excellent dramatization of Somerset Maugham's fine novel.
Full Review
I think great credit should go to [Bette Davis] for attempting such a role, in the first place, and then for daring to carry it through with such a fierce consistency, extracting from it every last nuance of unpleasantness.
Full Review
Rating: 2/5 -- Davis either grates or invigorates; either way, the rest of the movie hangs dully around her.
Description by OLDIES.com:
Considered to be the best filming of M. Somerset Maugham's poignant novel, the film tells of the ill-fated romance between a well-to-do club-footed medical student and a vulgar waitress. Bette Davis' performance as the lower-class waitress with a Cockney accent is magnificent.
Product Description:
John Cromwell (THE PRISONER OF ZENDA, THE GODDESS) brings W. Somerset Maugham's novel and Bette Davis's career to life with the spellbinding drama OF HUMAN BONDAGE. Having unsuccessfully tried his hand at painting in Paris, Philip Carey (Leslie Howard) returns home to London. Despite his clubfoot, Philip overcomes his awkwardness and pursues a medical career. Still in medical school, he becomes obsessed with a gruff Cockney waitress, Mildred Rogers (Davis), intent on taking him for all he is worth. When Carey discovers that she is dating other men, he attempts to forget her by striking up a relationship with another woman. The effort fails when Mildred returns to tell Carey she is pregnant. Mildred repeatedly leaves Carey in distress but returns to him when she needs money. Eventually, his devotion to her threatens his career ambitions and his chance for future happiness. Davis is spectacular as the repulsive Mildred, while Howard's quiet, suffering gentleman furthered his own reputation as an outstanding performer.
Plot Synopsis:
Considered to be the best screen version of W. Somerset Maugham's 1915 novel about a crippled doctor's passion for a lowbrow waitress and the self-destructive romance that follows, John Cromwell's OF HUMAN BONDAGE was the film that spelled stardom for Bette Davis.
Keywords:
Production Notes:
Bette Davis's performance in "Of Human Bondage" brought her to prominence as a Hollywood star. Davis notes: "It is an interesting fact that most people believe that 'Of Human Bondage' was my first picture although I had made twenty-one films before it."
Irene Dunne was the original choice for the role, but after seeing Bette Davis in "Cabin in the Cotton" and "The Rich Are Always with Us," director John Cromwell wanted to cast her instead. Following much pleading on Davis's part, Jack Warner agreed to "loan" the actress from Warner Brothers studio.
To help her attain an authentic London accent for the film, Bette Davis hired a Cockney woman to work in her home for two months.
Davis remembered: "The first few days on the set were not too heartwarming. Mr. Howard and his English colleagues, as a clique, were disturbed by the casting of an American girl in the part. I really couldn't blame them. There was lots of whispering in little Druid circles whenever I appeared. Mr. Howard... became a little less detached when he was informed that 'the kid is walking away with the picture.'"
Although Bette Davis was not officially nominated by the Academy for her performance in "Of Human Bondage", she was the subject of a write-in vote in 1934. After 1934, the Academy disallowed its policy of write-in campaigns. When she won Best Actress for her role in "Dangerous" the following year, the press noted that it may have been an attempt to reward her for her work in "Of Human Bondage."
The Catholic Church placed this film on its "condemned list" in 1934.
To conform with the MPAA/PCA Production Code, RKO changed the ailment in the film from syphilis to tuberculosis.
This film was remade in 1946 as a US production starring Eleanor Parker and Paul Heinreid. In 1955, there was a Mexican version directed by Miguel M. Delgado. Then in 1964, a British remake starred Laurence Harvey and Kim Novak.
A Pandro S. Berman production.
There is also a computer-colorized version of this film.
Additional cast: Desmond Roberts (Dr. Jacobs), Douglas Gordon (Hawker).
Additional credits: Ann Coleman (dialogue), Kenneth Holmes (assistant director), William Morgan (editor), Ethel Beach (wardrobe), Tommy Clark (wardrobe).
Movie Lovers' Ratings & Reviews:
Customer Rating:
Based on 10320 ratings.

Of Human Bondage
Movie Lover:
Anonymous
from
SUNNYSIDE, NY US
-- March, 14, 2012
I would like to make clear my opinion that the review of the movie is not necessarily what I think the movie is really about. I don't know if "ill-fated romance" is the way to accurately view this movie and the story it was based on. Who is to say that given who Philip and who Mildred are as people, that the romance they did have isn't actually the best possible romance they possibly could have had and possibly will continue to have at the end of the book/movie? Who knows whether Mildred died of lung disease or was rescued by another gentleman only to turn up when Philip and she really needed to see each other years later? The point being: is a romance better being something that enables each party to cannibalize each other's lives or allow each other to go on with the lives they really want but perhaps could not have in conventional ways being with each other?

I also would like to say that even though the print is really difficult to see--the letters they write to each other are almost impossible to see and no one says what the letters say in
words-- that I think this movie should be kept extant by any means possible, because the emotions and mental states the actors express have mainly been lost to the world as well as to cinema in the 80 or so years since the world has drastically changed and no one would be caught nowadays evincing the kinds of feelings these characters were not too full of hubris to emote.

And another correction: I feel Leslie Howard is also magnificent!
Of Human Bondage
Movie Lover:
henri donadille
from
clamart, Hauts-de-Seine FR
-- March, 27, 2004
Great filming of the classic novel(set here in the 1930's instead of the teens). Watch this and you'll see why Bette Davis is still the acting legend that she is. The scene where she attacks the hero with a barrage of insults is an absolute knockout! Splendid photography and sentimental background music are also big plus's. Highly recommended film.
Similar Products
Product Info
Sales Rank: 32,974
UPC: 089218307699
Shipping Weight: 0.25/lbs (approx)
International Shipping: 1 item