Three Came Home
Dramatic true story of an American writer (Claudette Colbert) who is thrown into a Japanese concentration camp during WWII and attempts a daring escape.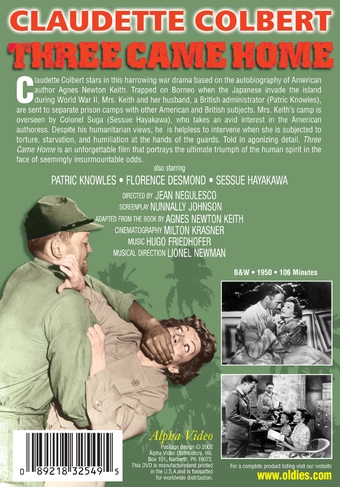 Price:
$

6

.90
List Price:
$8.98
You Save:
$2.08 (23% Off)
Available:
Usually ships in 5-7 business days
Also released as:
DVD Features:
Adapted from the book by Agnes Newton Keith
Rated: Not Rated
Run Time: 1 hours, 46 minutes
Video: Black & White
Released: April 16, 2002
Originally Released: 1950
Label: Alpha Video
Encoding: Region 0 (Worldwide)
Packaging: Keep Case
Aspect Ratio: Full Frame - 1.33
Performers, Cast and Crew:
Entertainment Reviews:
Many of the scenes are tearjerkers in the better sense of the word.
Full Review
Rating: B+
-- Claudette Colbert gives an extremely powerful performance in this well-directed WWII prison drama, based on the memoirs of American writer Agnes Newton Keith.
Full Review
Ozus' World Movie Reviews
Claudette Colbert suffers courageously in a Japanese internment camp, in Nunnally Johnson's adaptation of the true-life testimony of writer Agnes Newton Keith. Hayakawa's impressive, too.
Full Review
Rating: 4/5
-- The depiction of Japanese soldiers is often harsh, but somewhat nuanced considering the era. At least there are none wearing Coke-bottle glasses and speaking English in a racist patter.
Full Review
Jean Negulesco's direction, though full of repetitive shots, catches such moments of dramatic and poignant contrast.
Full Review
Daily Telegraph (Australia)
Agnes Newton Keith's tremendous story of some marginal barbarities of the recent war she saw and bravely endured... has received surpassing illustration from Twentieth Century-Fox in a bold and heroic screen drama of the same title.
Full Review
Description by OLDIES.com:
Claudette Colbert stars in this harrowing war drama based on the autobiography of American author Agnes Newton Keith. Trapped on Borneo when the Japanese invade the island during World War II, Mrs. Keith and her husband, a British administrator (Patric Knowles), are sent to separate prison camps with other American and British subjects. Mrs. Keith's camp is overseen by Colonel Suga (Sessue Hayakawa), who takes an avid interest in the American authoress. Despite his humanitarian views, he is helpless to intervene when she is subjected to torture, starvation, and humiliation at the hands of the guards. Told in agonizing detail, Three Came Home is an unforgettable film that portrays the ultimate triumph of the human spirit in the face of seemingly insurmountable odds.
Product Description:
During World War II, American author Agnes Newton Keith and her British husband were arrested and imprisoned in a Japanese prisoner camp. The account of their experiences is chilling and intense.
Keywords:
Movie Lovers' Ratings & Reviews:
Customer Rating:
Based on 2954 ratings.

An Intelligent and Riveting WWII Film
Movie Lover:
Erik Rupp
from
Southern California
-- February, 8, 2004
Three Came Home is something of a forgotten film. It rarely gets mentioned when WWII films are discussed, but it should be. While not as graphic or detailed as Schindler's List, and while the story isn't nearly as tragic, Three Came Home was still very much the precursor to that film in style and tone. With a similar theme, and an intelligent script, this is a film ahead of it's time and deserves to be watched for generations to come. The writing, acting, and direction are all top notch, and the quality of the film may be a pleasant surprise to many. What's just as nice is the print that Alpha used. The print is as clean and clear as any that I've seen on a "public domain" DVD. In fact, this print rivals some films of that era released on DVD by major studios. If you like WWII movies, or if you like good drama, buy Three Came Home. You will be glad that you did. (I sure am.)
Three Came Home
Movie Lover:
anonymous
from
anonymous
-- July, 30, 2003
I don't like WAR movies - but this one is FANTASTIC! Not a lot of "war" scenes. I put the movie in - thinking I don't like war stuff - but you know - this kept me so entertained! I could not leave the t.v. until it was over! Claudette Colbert is just wonderful as the star in this movie - you truly felt her pain and anguish as she was in the prison camp with her small son. I HIGHLY recommend this movie. I just loaned my copy to my mother - and I handed her a catalog from Oldies too! She'll have to order her own copy! I want mine back!
Three Came Home
Movie Lover:
Ron Smith
from
Culver, CA US
-- April, 16, 2003
I've seen many a war movie on VHS/DVD, but "Three Came Home" is the best for being made back in the 40's. Claudette Colbert did a great job acting in the picture. There was not many scenes showing battle secenes, but what there was in the picture was enough to make it look authentic. I'd recommend this movie highly.
Similar Products
Product Info
Sales Rank: 3,600
UPC: 089218325495
Shipping Weight: 0.25/lbs (approx)
International Shipping: 1 item