Range Rider - Volume 1
Four thrilling episodes from this action-packed and good-humored western adventure.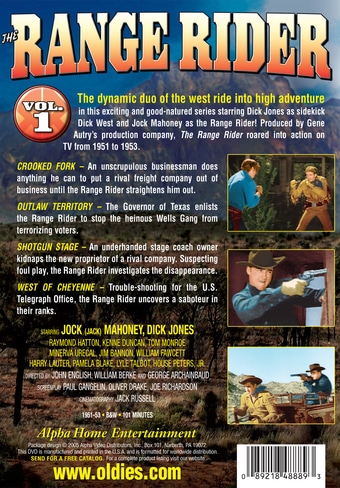 SALE:
$

5

.95
List Price:
$7.98
You Save:
$2.03 (25% Off)
Available:
Usually ships in 1-3 business days
More products that might interest you:
Classic Western Collection: 20 Full Color Vintage Movie Postcards (Movie Collectible)
$7.98
DVD Features:
Episodes originally aired in 1951-1953.
Rated: Not Rated
Run Time: 1 hours, 41 minutes
Video: Black & White
Released: November 8, 2005
Originally Released: 1951
Label: Alpha Video
Encoding: Region 0 (Worldwide)
Packaging: Keep Case
Aspect Ratio: Full Frame - 1.33
Performers, Cast and Crew:
Entertainment Reviews:
Description by OLDIES.com:
The dynamic duo of the west ride into high adventure in this exciting and good-natured series starring Dick Jones as sidekick Dick West and Jock Mahoney as the Range Rider! Produced by Gene Autry's production company, "The Range Rider" roared into action on TV from 1951 to 1953.
Crooked Fork: An unscrupulous businessman does anything he can to put a rival freight company out of business until the Range Rider straightens him out.
Outlaw Territory: The Governor of Texas enlists the Range Rider to stop the heinous Wells Gang from terrorizing voters.
Shotgun Stage: An underhanded stage coach owner kidnaps the new proprietor of a rival company. Suspecting foul play, the Range Rider investigates the disappearance.
West Of Cheyenne: Trouble-shooting for the U.S. Telegraph Office, the Range Rider uncovers a saboteur in their ranks.
Keywords:
Movie Lovers' Ratings & Reviews:
Customer Rating:
Based on 8 ratings.

Ride Ranger Ride
Movie Lover:
Uncle Walter
from
Rehoboth
-- October, 10, 2007
This was a nice TV series from the early 1950s and just as much fun today. I bouhg all 4 volumes and enjoyed the adventure