Thundering Hoofs (Silent)
Legendary silent cowboy star Fred Thomson must beat a false murder rap and save the woman he loves in his only surviving Western picture.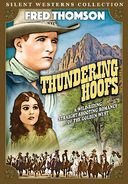 SALE:
$

5

.95
List Price:
$7.98
You Save:
$2.03 (25% Off)
Available:
Usually ships in 1-3 business days
DVD-R Details
Run Time: 1 hours, 10 minutes
Video: Black & White
Encoding: Region 0 (Worldwide)
Released: July 5, 2021
Originally Released: 1924
Label: Alpha Video
Performers, Cast and Crew:
Entertainment Reviews:
Description by OLDIES.com:
Fun-loving cowboy Dave Marshall falls in love with sexy señorita Carmelita Estrada after he rescues her stagecoach from bandits. Ironically, the gang's leader, Luke Severn, convinces Carmelita's father that Dave was the one behind the attempted robbery. He is thrown in jail and his faithful horse Silver King consigned to death in a bullfight. Wanting to inherit the vast Estrada fortune, Severn takes the opportunity to romance Carmelita. Dave must escape from jail before Silver King can be killed and Carmelita pressed into marriage with the hateful Severn.
Fred Thomson (1890-1928) was one of the biggest western stars of the silent era, right after William S. Hart and Tom Mix. If he's unfairly forgotten, it's because very few of his movies have survived to the present day (Thundering Hoofs is the only one of his Western pictures still extant.) How his career started almost could be a movie in and of itself. While serving in the military during World War I, his regiment was visited by "America's Sweetheart", Mary Pickford, and her best friend, pioneering screenwriter Frances Marion. Thomson, who was laid up in bed with a leg injury, struck Marion with his muscular handsomeness and resemblance to Mary's boyfriend, Douglas Fairbanks. Once the war concluded, Fred and Frances married. Thomson soon had a major acting role in The Love Light (1921) as (ironically) Pickford's husband. Shortly thereafter he was approached by Joseph P. Kennedy, who signed him to his studio Film Booking Offices of America (FBO). At FBO Fred made, in the words of Joe Franklin, "some of the best little Westerns on the market - fast, slick, full of action, and marked by top production techniques." Fans loved Fred's white Palomino horse, Silver King, and appreciated the morals he made sure were in every one of his movies (Thomson had trained to be a minister and evidently was as pure-hearted as the characters he played on screen, a fact that was often played up in publicity to offset Hollywood's decadent reputation.) Fred even did his own stunts, which memorably backfired on him when he fell under a stagecoach while jumping from horse to horse in Thundering Hoofs. (The stunt had to be finished by Yakima Canutt while Thomson recuperated from his injuries. This ended up being Cannutt's big break in motion pictures. However, Thomson's initial bone-breaking jump remained in the movie through the magic of editing.) His career came to a tragically premature end when Fred contracted tetanus from stepping on a rusty nail. His illness undiagnosed, Thomson died in Frances's arms on Christmas Day, 1928. Eerily, subsequent owners of Fred and Frances's extravagant Hollywood home (nicknamed "The Enchanted Hill") have claimed the ghost of the beloved cowboy actor has visited them on multiple occasions!
Similar Products
Product Info
Sales Rank: 16,273
UPC: 089218843692
Shipping Weight: 0.25/lbs (approx)
International Shipping: 1 item