Wheeler & Woolsey: Half Shot At Sunrise
Hilarious comedy in which Wheeler and Woolsey are two soldiers AWOL in Paris.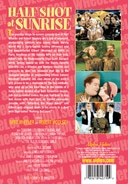 SALE:
$

5

.95
List Price:
$7.98
You Save:
$2.03 (25% Off)
Available:
Usually ships in 1-3 business days
DVD Features:
Rated: Not Rated
Run Time: 1 hours, 18 minutes
Video: Black & White
Released: November 18, 2003
Originally Released: 1930
Label: Alpha Video
Encoding: Region 0 (Worldwide)
Packaging: Keep Case
Aspect Ratio: Full Frame - 1.33
Performers, Cast and Crew:
Entertainment Reviews:
Description by OLDIES.com:
The popular stage-to-screen comedy duo of Bert Wheeler and Robert Woolsey are a pair of wayward, womanizing soldiers who cause havoc during World War I. Curly-haired Tommy (Wheeler) and the bespectacled Gilbert (Woolsey) go AWOL in Paris, heedless of the fuming MPs on their trail. Gilbert falls for Mademoiselle Olga (Leni Stengel) while Tommy meets up with the flighty Annette (Dorothy Lee, a Wheeler and Woolsey favorite) and proceeds to woo her, unaware that she is the youngest daughter of commanding officer Colonel Marshall! Keeping one step ahead of the army's grip proves to be a challenge for the two oddballs, who wind up on the front lines in the middle of a fierce battle! Amidst all of their hysterical double-talk and screwball antics, the pair find time to sing and dance with their gals, as Tommy serenades Annette with "Whistling the Blues Away" and Gilbert gets stripped down to his shorts in a duet with Olga called "Nothing But Love."
Product Description:
Bert Wheeler and Robert Woolsey play a pair of AWOL doughboys on the loose in Paris during World War I. Slapstick comedy with sound.
Keywords:
Movie Lovers' Ratings & Reviews:
Customer Rating:
Based on 13 ratings.

One of Bert and Bob's best shots . . .
Movie Lover:
Daniel Nather
from
Cincinnati, OH US
-- October, 30, 2004
This was Wheeler & Woolsey's first starring vehicle and one of my favorites, so I was glad to finally get it on DVD. What little story there is in this picture is merely a clothesline for gags, sketches, and musical numbers. The ballet parodies are the best!

I compared this DVD to a tape I made off AMC several years ago, and the DVD comes off very well. The only things that mar it are a few video artifacts that crept in, causing to picture to go out for a frame or two (appearing as a blip on your TV screen). Somebody in quality control should have caught this, and I took half a star off my rating for that reason.

But don't let that keep you from buying and enjoying this disc. HALF SHOT AT SUNRISE is definitely worth your time and money!
The best!
Movie Lover:
David Olson
from
Toronto, ON CA
-- February, 10, 2004
I know that Alpha Video is considered a budget label but aside from the price (which is unbeatable!) and, perhaps, the lack of any real extra features, I can find nothing about this disc that suggests that it is anything but first class! The print is excellent; the best I've seen from Alpha. I have most of the Wheeler and Woolsey laserdiscs that came out some years ago and this DVD is easily the equal of most of those. And the cover art is just as appealing! If you are a Wheeler and Woolsey fan (and why on earth would anyone not be) you really must grab this one. And while I'm on the subject, I'd like to take this opportunity to implore Alpha to release HOLD 'EM JAIL, one of W&W's best features, on DVD! Thank you Alpha, you have produced a wonderful product for a remarkable price.
Similar Products
Product Info
Sales Rank: 56,659
UPC: 089218427199
Shipping Weight: 0.27/lbs (approx)
International Shipping: 1 item