Boy! What A Girl!
This hilarious film features Tim (Kingfish) Moore as a female impersonator who ends up a leading lady on Broadway.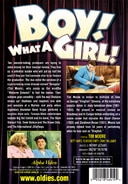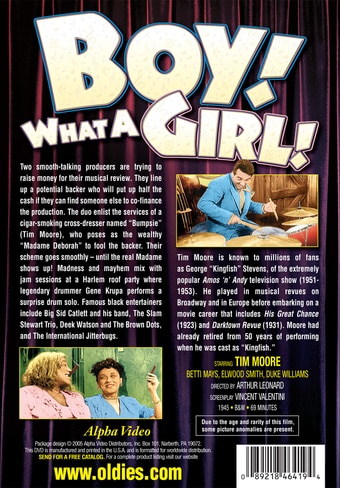 Price:
$

6

.90
List Price:
$8.98
You Save:
$2.08 (23% Off)
Available:
Usually ships in 5-7 business days
DVD Features:
Rated: Not Rated
Run Time: 1 hours, 9 minutes
Video: Black & White
Released: January 25, 2005
Originally Released: 1945
Label: Alpha Video
Encoding: Region 0 (Worldwide)
Packaging: Keep Case
Aspect Ratio: Full Frame - 1.33
Performers, Cast and Crew:
Entertainment Reviews:
Rating: 5/5 -- An extraordinary retro discovery, with an astonishing star turn by Tim Moore. Seek this one out!
Description by OLDIES.com:
Two smooth-talking producers are trying to raise money for their musical review. They line up a potential backer who will put up half the cash if they can find someone else to co-finance the production. The duo enlist the services of a cigar-smoking cross-dresser named "Bumpsie" (Tim Moore), who poses as the wealthy "Madame Deborah" to fool the backer. Their scheme goes smoothly - until the real Madame shows up! Madness and mayhem mix with jam sessions at a Harlem roof party where legendary drummer Gene Krupa performs a surprise drum solo. Famous black entertainers include Big Sid Catlett and his band, The Slam Stewart Trio, Deek Watson and The Brown Dots, and The International Jitterbugs.
Tim Moore is known to millions of fans as George "Kingfish" Stevens, of the extremely popular "Amos 'n' Andy" television show (1951-1953). He played in musical revues on Broadway and in Europe before embarking on a movie career that includes His Great Chance (1923) and Darktown Revue (1931). Moore had already retired from 50 years of performing when he was cast as "Kingfish."
Product Description:
When the star can't go on, a producer puts on women's clothing and fills in in this all-black musical production.
Keywords:
Movie Lovers' Ratings & Reviews:
Customer Rating:
Based on 1131 ratings.

The Best of the Race Movies
Movie Lover:
M. Mania
from
Port Angeles, WA US
-- April, 26, 2008
What with the plot sounding so great, I was prepared to be disappointed by the actual entertainment value of this film. But I was WRONG - this is a GREAT little film, and certainly the most entertaining of all the race films I've seen - and I've seen a lot. (DIRTY GERTIE is a close second.) BOY! is full of great music, features some impressive dancing, a fair amount of laughs, and, of course, the Kingfish in drag. (And the totally random cameo drum solo by Gene Krupa.) Since this came out on DVD, I have given away many, many copies of this film to people I know. An all-black cast drag comedy from 1947 - I mean, how many of those are there? This is entertainment, history, sociology, etc. all in one affordable package. EVERYONE should be familiar with this film, even if I have to buy you a copy myself.
Similar Products
Product Info
Sales Rank: 13,813
UPC: 089218464194
Shipping Weight: 0.28/lbs (approx)
International Shipping: 1 item