Desert Phantom
Johnny Mark Brown, incognito as a gun salesman, is searching for the killer of his sister.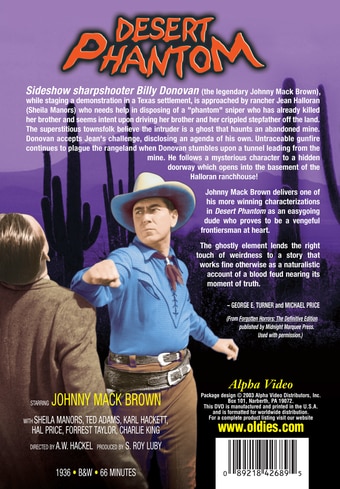 SALE:
$

5

.95
List Price:
$7.98
You Save:
$2.03 (25% Off)
Available:
Usually ships in 1-3 business days
More products that might interest you:
Classic Western Collection: 20 Full Color Vintage Movie Postcards (Movie Collectible)
$7.98
DVD Features:
Rated: Not Rated
Run Time: 1 hours, 6 minutes
Video: Black & White
Released: November 18, 2003
Originally Released: 1936
Label: Alpha Video
Encoding: Region 0 (Worldwide)
Packaging: Keep Case
Aspect Ratio: Full Frame - 1.33
Performers, Cast and Crew:
Entertainment Reviews:
Description by OLDIES.com:
Sideshow sharpshooter Billy Donovan (the legendary Johnny Mack Brown), while staging a demonstration in a Texas settlement, is approached by rancher Jean Halloran (Sheila Manors) who needs help in disposing of a "phantom" sniper who has already killed her brother and seems intent upon driving her brother and her crippled stepfather off the land. The superstitious townsfolk believe the intruder is a ghost that haunts an abandoned mine. Donovan accepts Jean's challenge, disclosing an agenda of his own. Untraceable gunfire continues to plague the rangeland when Donovan stumbles upon a tunnel leading from the mine. He follows a mysterious character to a hidden doorway which opens into the basement of the Halloran ranchhouse! Johnny Mack Brown delivers one of his more winning characterizations in Desert Phantom as an easygoing dude who proves to be a vengeful frontiersman at heart. The ghostly element lends the right touch of weirdness to a story that works fine otherwise as a naturalistic account of a blood feud nearing its moment of truth. (George E. Turner and Michael Price, From Forgotten Horrors: The Definitive Edition, published by Midnight Marquee Press. Used with permission.)
Product Description:
A bullet salesman hunts down a goldmine phantom in this atmospheric "horror" western.
Keywords:
Similar Products
Product Info
Sales Rank: 57,953
UPC: 089218426895
Shipping Weight: 0.25/lbs (approx)
International Shipping: 1 item