The Movie Man's Matinee, Volume 4: Rare Silent Comedies from the Vault of John K. Carpenter (Silent)
Seven ultra-rare silent comedies from the archives of historian John K. Carpenter, newly transferred from pristine film prints.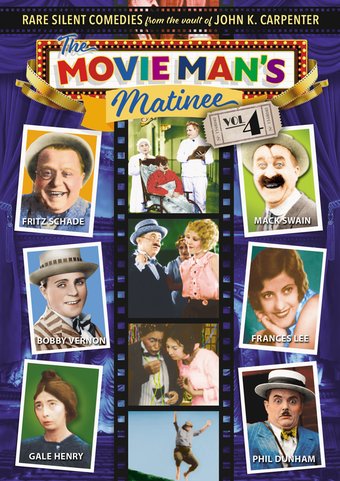 CYBER WEEK SALE:
$

6

.98 Sale ends Dec 4
List Price:
$8.98
You Save:
$2 (22% Off)
Available:
Usually ships in 5-7 business days
DVD-R Details
Run Time: 1 hours, 12 minutes
Video: Black & White
Encoding: Region 0 (Worldwide)
Released: November 12, 2019
Originally Released: 1927
Label: Alpha Video
Performers, Cast and Crew:
Entertainment Reviews:
Description by OLDIES.com:
Film historian John K. Carpenter ('The Movie Man') is one of the most dedicated devotees of the art of silent comedy, with a collection unsurpassed by few in its breadth and rarity. Now he presents even more gems from his archives. "There is mystery and history lying within films from the silent era. So many thousands were produced, yet today less than half are known to exist. For decades, I sought out the oddest shorts because I felt they would further my understanding of the art of silent comedy. Alpha Video has made it possible for me to share my findings with my fellow fans at long last."
YE OLDEN GRAFTER (1915): Mack Swain steals Mae Busch's purse, and it's up to chivalrous Eddie Cline to get it back. As Edward F. Cline, he would direct some of W.C. Fields' best comedies, including My Little Chickadee (1940) and The Bank Dick (1940).
A LUCKY LEAP (1915): Fritz Schade and Charley Chase are grocery store employees competing over the boss's pretty daughter. They're so smitten with her they don't notice a pair of crooks taking off with the payroll!
A HUMAN HOUND'S TRIUMPH (1915): Mack Swain is a dastardly crook staying at Mae Busch's boarding house. Fortunately the kindly old lady next door is really undercover detective Fritz Schade in drag!
A MILLIONAIRE FOR A MINUTE (1915): Country bumpkin Max Ascher proposes to village schoolmarm Gale Henry. Billy Franey, her Egyptologist uncle, is against the marriage...until he discovers that Max has inherited Cleopatra's ring, complete with magic genie!
EATS FOR TWO (1927): Things get complicated for insurance broker Phil Dunham when both his wife and his mistress are invited to the same dinner party.
NIFTY NUMBERS (1928): Frances Lee and her fellow chorus girls are asked to model Billy Engle's new line of bathing suits at a swank hotel...but there's cause for embarrassment when their clothes are stolen! Part of Al Christie's Confessions of a Chorus Girl series, which promised audiences "the most beautiful girls in Hollywood."
SAPPY SERVICE (1929): Process server Bobby Vernon races to get a doped-up witness in court on time to testify. This was Bobby Vernon's final silent comedy. Pioneering film historian William K. Everson once called Sappy Service "fast, bizarre, and pleasantly sadistic."
Similar Products
Product Info
Sales Rank: 13,523
UPC: 089218828798
Shipping Weight: 0.25/lbs (approx)
International Shipping: 1 item