The Movie Man's Matinee, Volume 5: Rare Silent Comedies from the Vault of John K. Carpenter
Ultra-rare silent comedy shorts from the collection of film historian John K. Carpenter, "The Movie Man."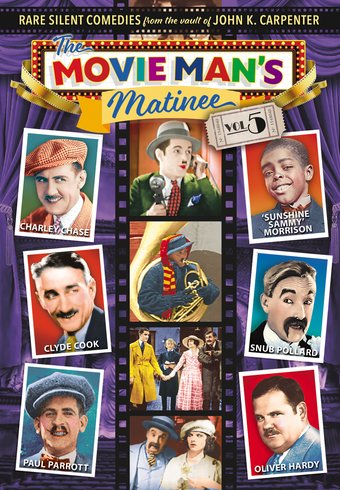 SALE:
$

5

.95
List Price:
$7.98
You Save:
$2.03 (25% Off)
Available:
Usually ships in 1-3 business days
DVD-R Details
Run Time: 1 hours, 33 minutes
Video: Black & White
Encoding: Region 0 (Worldwide)
Released: July 21, 2020
Originally Released: 1923
Label: Alpha Video
Performers, Cast and Crew:
Entertainment Reviews:
Description by OLDIES.com:
For years, film historian John K. Carpenter ('The Movie Man') has been one of the most dedicated preservationists of the art of silent comedy. Now he presents a new collection of rarities from his archives. "So many of the silent comedies I have spent my life collecting illustrate the tremendous diversity and creativity that existed during the golden age of filmmaking. No one comic was in any way the same. The highly creative talents that star in these shorts are for the most part unknown today, but they prove that Chaplin, Keaton, and Lloyd had some competition during those vintage years!"
MONEY TO BURN (1920): 'Snub' Pollard and his sidekick, 'Sunshine Sammy' Morrison, go out on the town after receiving an inheritance from Snub's dearly departed uncle.
HER NEAR-SIGHTED FATHER (1920): Oliver Hardy forbids his daughter from seeing boyfriend Charley Chase, but Ollie's bad eyesight means that Charley can get in disguised as the milkman. This is a one-reel abridged version of the Chase comedy Married To Order, made for the home movie market. The actress playing Hardy's daughter was actually the same age as him!
PASTE AND PAPER (1923): Paul Parrott (Charley Chase's brother) falls in love with Jobyna Ralston while redecorating her mother's house. Jobyna Ralston was Harold Lloyd's love interest in his comedies before being replaced by Mildred Davis.
STARVATION BLUES (1925): Clyde Cook and Syd Crossley are two starving musicians who find themselves broke and homeless on the windy streets of Chicago. This was an early attempt by Hal Roach to create a comedy team, a formula that did not gain traction until it was tried with Laurel & Hardy.
TOO MUCH DOUGH (1926): Billy West started out as a Charlie Chaplin imitator, but by the later part of the silent era the gimmick had grown stale. In Too Much Dough, West removes his Chaplin makeup to play a beleaguered salesman for a bread company.
MEET THE FOLKS (1927): Jimmie Adams falls in love with an attractive girl on the train - only to discover their families are on opposite sides of a bitter feud! Adams is mainly known as one of the singers in "The Ranch Boys" musical group that accompanied Charley Chase in many of his sound shorts.
BONUS: Players at Play (1929): This entry from the "Grantland Rice Sportlight" series of short subjects shows a variety of Hollywood actors at play - including Thelma Todd horseback riding, Robert Armstrong boxing, Louise Fazenda running with her dogs, Junior Coghlan playing baseball, and Jackie Coogan learning how to swim! Grantland Rice was a famed sportswriter and a former coach for the Vanderbilt University baseball team.
Similar Products
Product Info
Sales Rank: 1,797
UPC: 089218833693
Shipping Weight: 0.25/lbs (approx)
International Shipping: 1 item