The Eyes of The Mummy (Silent)
Mysterious tale of a man who is driven mad after visiting an ancient Egyptian shrine.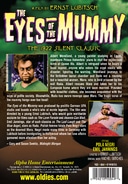 SALE:
$

5

.95
List Price:
$7.98
You Save:
$2.03 (25% Off)
Available:
Usually ships in 1-3 business days
DVD Features:
Title cards in ENGLISH
Rated: Not Rated
Run Time: 1 hours, 3 minutes
Video: Black & White
Released: March 28, 2006
Originally Released: 1922
Label: Alpha Video
Encoding: Region 0 (Worldwide)
Aspect Ratio: Full Frame - 1.33
Audio:

(unspecified)
Titlecard - English
Performers, Cast and Crew:
Entertainment Reviews:
Rating: B-
-- I enjoyed it as a spooky melodramatic adventure tale.
Full Review
Ozus' World Movie Reviews
Description by OLDIES.com:
Albert Wendland, a young painter studying in Egypt, overhears Prince Hohenfels' plans to visit the mysterious tomb of Queen Ma. Albert is intrigued when he hears a local legend: anyone who enters the crypt meets with disaster. Ignoring the warning, Wendland journeys to the forbidden burial chamber and finds not a mummy but a beautiful woman, Mara, who is held prisoner by the evil Radu. Albert rescues Mara and takes her to his European home where they are soon married. Provided with beautiful clothes, she becomes acquainted with the ways of polite society. Meanwhile, Radu has sworn revenge upon Mara. The tragic curse of the mummy hangs over her head!
The Eyes of the Mummy was produced by prolific German UFA studio and boasts a who's who of movie legends. The film was directed by a young Ernst Lubitsch, who would gain worldwide acclaim for films such as The Love Parade and Heaven Can Wait. Emil Jannings, star of such classics as The Last Laugh and The Blue Angel, stars as Radu. Polish femme fatale Pola Negri stars as the doomed Mara. Negri made many films in Germany with Lubitsch before immigrating to Hollywood where her love affairs garnered more attention than her acting.
Product Description:
Polish actress and dancer Pola Negri appears in this German silent film by Ernst Lubitsch about a young English painter who comes to Cairo and uncovers a plot by an Egyptian man, Radu, to scare visitors away from the tomb of the pharaoh "Ma." The painter rescues a beautiful woman (Negri) and brings her back to London with him. There, she becomes famous for her beauty and dancing and stars in a stage performance. Meanwhile Radu has vowed revenge and travels to England to find them.
Keywords:
Movie Lovers' Ratings & Reviews:
Customer Rating:
Based on 119 ratings.

Jannings
Movie Lover:
Patrick Lyman
from
Point Pleasant, NJ US
-- August, 1, 2006
Emil Jannings does a fantastic job of transforming into an evil and ominous character for this movie. Compared to his performances in "The Last Laugh" and "Waxworks", this shows he had incredible range as an actor.
Eyes of The Mummy
Movie Lover:
Elizabeth Murphy
from
Philadelphia
-- April, 5, 2006
This is an adventurous melodramatic tale. I really enjoyed the restoration Alpha did on this film. I also enjoyed the new musical score, composed by Rachel Gutches, it was dramatic and serious. It made the film enjoyable to watch.
Similar Products
Product Info
Sales Rank: 8,209
UPC: 089218500496
Shipping Weight: 0.25/lbs (approx)
International Shipping: 1 item