The Monster Walks
During a stormy night a gorilla stalks the halls of an old house.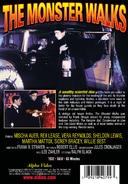 SALE:
$

5

.95
List Price:
$7.98
You Save:
$2.03 (25% Off)
Available:
Usually ships in 1-3 business days
Also available in a set:
More products that might interest you:
Classic Horror Collection: 20 Full Color Vintage Movie Postcards (Movie Collectible)
$7.98
DVD Details
Set Design Ralph Black
Rated: Not Rated
Run Time: 1 hours, 3 minutes
Video: Black & White
Encoding: Region 0 (Worldwide)
Released: November 19, 2002
Originally Released: 1932
Label: Alpha Video
Performers, Cast and Crew:
Description by OLDIES.com:
A wealthy scientist dies and his heirs are called to his gloomy mansion for the reading of the will. As thunder explodes and lightning flashes, a murderer runs loose in the dark hallways and hidden passages. It is a night of terror for the house guests as they face death at the hand of an unseen killer. A vintage old house thriller, The Monster Walks was directed by Frank Strayer, known for many independent features including The Vampire Bat, Condemned to Live and The Ghost Walks, as well as at least twelve entries in the long-running "Blondie" series.
Keywords:
Movie Lovers' Ratings & Reviews:
Customer Rating:
Based on 985 ratings.

Dark and moody
Movie Lover:
David Olson
from
Toronto, ON CA
-- February, 10, 2004
Seeing Mischa Auer's name in the credits one might easily assume that THE MONSTER WALKS is a light hearted comedy. Let me assure you that this is not the case. In fact, aside from some (now) politically incorrect comic relief supplied by Willie Best, THE MONSTER WALKS has a very dark and ominous tone. I found it very moody and quite entertaining. The print is remarkably good considering its age and the fact that, without the presence of a big star like Lugosi, it is not the kind of film that has received much care and attention. On the whole it looks very good indeed...
Similar Products
Product Info
Sales Rank: 21,270
UPC: 089218407993
Shipping Weight: 0.28/lbs (approx)
International Shipping: 1 item