The Corpse Vanishes
Bela Lugosi snatches the bodies of virgin brides to give eternal youth to his beautiful wife.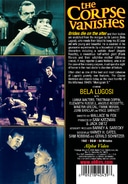 SALE:
$

5

.95
List Price:
$7.98
You Save:
$2.03 (25% Off)
Available:
Usually ships in 1-3 business days
Also available in a set:
More products that might interest you:
Classic Horror Collection: 20 Full Color Vintage Movie Postcards (Movie Collectible)
$7.98
DVD Features:
Associate Producer Barney A. Sarecky
Rated: Not Rated
Run Time: 1 hours, 4 minutes
Video: Black & White
Released: September 24, 2002
Originally Released: 1942
Label: Alpha Video
Encoding: Region 0 (Worldwide)
Packaging: Keep Case
Performers, Cast and Crew:
Entertainment Reviews:
Mountain Xpress (Asheville, NC)
Rating: B-
-- A creaky Povery Row mad scientist film from yesteryear that stars a past his prime Bela Lugosi.
Full Review
Ozus' World Movie Reviews
Description by OLDIES.com:
Brides die on the alter and their bodies are snatched from the morgue by Dr. Lorenz (Bela Lugosi), who needs their blood to keep his 80 year old wife young and beautiful. He is assisted in his gruesome experiments by a household of bizarre characters including a sadistic dwarf (Angelo Rossitto), a monstrous half-witted giant (Frank Moran) and their witchlike mother (Minerva Urecal). A nosy reporter (Luana Walters), who is on the case of the missing corpses, must spend a night of horror in the mad doctor's chamber of torture. Often cited as one of the best and most cohesive of Lugosi's poverty row features, The Corpse Vanishes also stands today as the most horrific of the infamous 1940's "Monogram 9."
Product Description:
Bela Lugosi is the evil Dr. Lorenz, a man who has invented a poisoned flower corsage to use on unsuspecting young brides to put them in a zombie-like state, abduct them, steal their blood, and inject it into his aging wife to keep her young forever. Dr. Lorenz's actions are headed off at the pass by Pat Hunter, an intelligent and beautiful reporter who knows what the sinister man is up to. But will she be his next victim'
Keywords:
Movie Lovers' Ratings & Reviews:
Customer Rating:
Based on 4298 ratings.

A Great Film for A Dark Stormy Night!
Movie Lover:
John Chance
from
San Francisco, CA US
-- October, 4, 2009
This is a great film to watch on a dark and stormy night (or anytime for that matter). Definitely one of Poverty Row's best. It has it all. Good story, fast pace, weird characters, weird scenes, good action, and scary music. What more can I say? Really conveys the feeling of the forties. A spunky reporter stays overnight in Bela's house. It's full of weirdness throughout-- Bela and his wife sleep in coffins, there's the necrophiliac hunchback, the dwarf, the weird assistant, secret panels, lightning and thunder, and a last minute rescue by Tris Coffin. A perfect combination of weirdness and good story telling!
Poor Bela
Movie Lover:
John Walter
from
Middle Village, NY US
-- November, 21, 2008
Bela Lugosi starred in some pretty bad films. This isn't the worst but it's sure in the running.
The Corpse Vanishes
Movie Lover:
henri donadille
from
clamart, Hauts-de-Seine FR
-- March, 29, 2004
Interesting Lugosi film definitly has its moments. Mystery builds as repoter goes to Lugosi's mansion to find out the truth of why young brides are seemingly dying at the alter. Some absurd situations and dialogue but still worth a look.
genuinely eerie film in a decent film-to-DVD transfer.
Movie Lover:
kinovend
from
Grand Rapids, Mi
-- December, 2, 2003
There are some signs of wear in the film used as the video master, but by and large, the DVD picture and audio quality are very good. Nice sharp picture with good contrast even in the dark scenes and the dialogue is clear and understandable with minimal background noise or hum. The movie itself is quite good with the director building the suspense nicely. The women in the film are quite pretty, and Mr. Lugosi is quite creepy. A fast paced hour of fun. Nice job, Alpha!