The Four Horsemen of the Apocalypse (Silent)
One of the most popular films of the silent era, this anti-war classic stars Rudoph Valentino in his breakthrough role.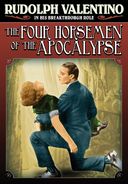 SALE:
$

5

.95
List Price:
$7.98
You Save:
$2.03 (25% Off)
Available:
Usually ships in 1-3 business days
DVD-R Details
Run Time: 2 hours, 12 minutes
Video: Black & White
Encoding: Region 0 (Worldwide)
Released: August 25, 2020
Originally Released: 1921
Label: Alpha Video
Performers, Cast and Crew:
Entertainment Reviews:
Although it has a good deal of the wordiness, erratic tempo and illogical emphasis common to screen adaptations of printed stories, it is nevertheless distinguished from many other works of its kind by genuine cinematographic qualities.
Full Review
Rating: 7/10
-- Rousing, heartbreaking, beautiful, ugly, and full of human activity, some of which sings with insight and emotion, some of which plods.
Full Review
It is a production of many nuances, shadings so artistic and skillful as to intrigue the mind of the spectator.
Full Review
Rating: 2.5/4
-- It still has a few entertaining moments but it's mostly a real slog to get through.
Full Review
Ozus' World Movie Reviews
Description by OLDIES.com:
Madariaga, the Parisian-born patriarch of a wealthy Argentinian family, has two daughters - one of whom marries a Frenchman, the other a German. He inevitably favors his French grandson, Julio, which creates resentment among his three German cousins. After Madariaga dies, the two families separate, moving to France and Germany. In Paris, Julio lives the life of a libertine artist, engaging in an affair with a married woman. When the woman's husband is crippled in the war, she ends the affair. Disillusioned, a heartbroken Julio enlists in the army and is sent to the Western Front. There he meets in battle three men he thought he would never see again - his German cousins. On this hellish battlefield, a decades-old resentment will finally be resolved...
Regarded as one of the crowning achievements of the silent age, The Four Horsemen of the Apocalypse is a masterpiece that is also considered to be Hollywood's first true anti-war film. June Mathis, head of the scenario department at Metro Pictures, had been interested in turning the 1916 novel by Vicente Blasco Ibañez, about a family on opposite sides of the conflict during World War I, into a movie for years. She saw two men as instrumental in making the picture happen. One was director Rex Ingram, who had arrived at Metro in 1920 but had yet to distinguish himself as a filmmaker. The other was a former bit player and dancer whose French-Italian parentage gave him an indisputably "Latin" look. This was Rudolph Valentino, and despite his relative inexperience, Mathis thought he was perfect for the central role of Julio. She was right - The Four Horsemen of the Apocalypse made Valentino a star, and his tango scene turned the dance into a new national craze. Buoyed by Valentino, the film would be the highest grossing motion picture of 1921, outdoing even Charlie Chaplin's The Kid; adjusted for inflation, it may be the most successful silent film of all time. Rex Ingram became a prestigious director, one whose name guaranteed a box-office smash, while June Mathis became the highest-paid female executive in Hollywood at the young age of 35 (unprecedented for a woman during this era.) As for Valentino, he would soon tire of his low weekly wage at Metro, and jump to Paramount for the immortal classic The Sheik (1921), the film that cemented him as a legend.
Similar Products
Product Info
Sales Rank: 643
UPC: 089218834690
Shipping Weight: 0.25/lbs (approx)
International Shipping: 1 item