Do You Trust Your Wife? - Volume 1
Four episodes of hilarity featuring Edgar Bergen and Charlie McCarthy.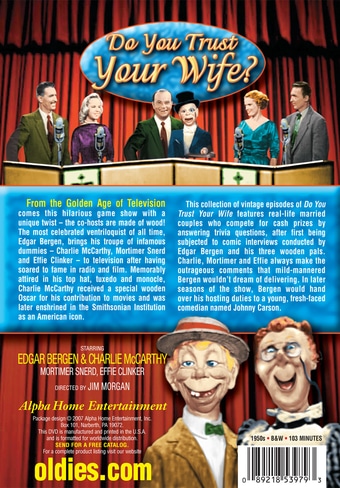 Price:
$

6

.90
List Price:
$8.98
You Save:
$2.08 (23% Off)
Available:
Usually ships in 5-7 business days
DVD Features:
Episodes originally aired in the 1950s
Rated: Not Rated
Run Time: 1 hours, 43 minutes
Video: Black & White
Encoding: Region 0 (Worldwide)
Released: July 31, 2007
Originally Released: 2007
Label: Alpha Video
Aspect Ratio: Full Frame - 1.33
Performers, Cast and Crew:
Entertainment Reviews:
Description by OLDIES.com:
From the Golden Age of Television comes this hilarious game show with a unique twist - the co-hosts are made of wood! The most celebrated ventriloquist of all time, Edgar Bergen, brings his troupe of infamous dummies - Charlie McCarthy, Mortimer Snerd and Effie Clinker - to television after having soared to fame in radio and film. Memorably attired in his top hat, tuxedo and monocle, Charlie McCarthy received a special wooden Oscar for his contribution to movies and was later enshrined in the Smithsonian Institution as an American icon.

This collection of vintage episodes of "Do You Trust Your Wife?" features real-life married couples who compete for cash prizes by answering trivia questions, after first being subjected to comic interviews conducted by Edgar Bergen and his three wooden pals. Charlie, Mortimer and Effie always make the outrageous comments that mild-mannered Bergen wouldn't dream of delivering. In later seasons of the show, Bergen would hand over his hosting duties to a young, fresh-faced comedian named Johnny Carson.
Keywords:
Movie Lovers' Ratings & Reviews:
Customer Rating:
Based on 10 ratings.

Wholsome AND Funny
Movie Lover:
Lester Boutillier
from
New Orleans, LA US
-- June, 15, 2010
I always liked Edgar Bergen and Charlie McCarthy, and I remember this quiz show vaguely from when I was a kid. It's very similar to You Bet Your Life, except that Edgar Bergen didn't insult the contestants like Groucho Marx did. He laughed with them, rather than at them. This is a very intelligent, very real, very warm, and very funny show. I'd like to see more of it!
Similar Products
Product Info
Sales Rank: 31,342
UPC: 089218539793
Shipping Weight: 0.25/lbs (approx)
International Shipping: 1 item