Felix the Cat Early Cartoon Classics, Volume 2
10 more wild, groundbreaking Felix the Cat cartoons from the silent and early sound era, pulled from the archives of film historian John K. Carpenter ("The Movie Man.")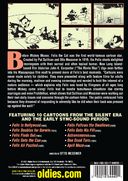 Price:
$

7

.10
List Price:
$8.98
You Save:
$1.88 (21% Off)
Available:
Usually ships in 5-7 business days
DVD-R Details
Run Time: 1 hours, 11 minutes
Video: Black & White
Encoding: Region 0 (Worldwide)
Released: September 14, 2021
Originally Released: 1925
Label: Alpha Video
Performers, Cast and Crew:
Entertainment Reviews:
Description by OLDIES.com:
Before Mickey Mouse, Felix the Cat was the first world-famous cartoon star. Created by Pat Sullivan and Otto Messmer in 1919, the Felix shorts delighted moviegoers with their surreal and often topical humor. Now Long Island-based film historian John K. Carpenter ("The Movie Man") digs even further into his Massapequa film vault to present more of Felix's best moments. "Cartoons were never made solely for children. They were presented along with feature films for adults during the morning, matinee and evening screenings and needed to hold the interest of a mature audience -- which explains why Felix was loved by filmgoers of all ages long before Mickey came along! Felix had to handle tumultuous situations like stormy marriages and even Prohibition, which shows that Sullivan and Messmer were working out their own daily issues and concerns through the cartoon feline. The public embraced Felix because they dreamed of responding to adversity like he did when their back was pressed up against the wall!"
Featuring 10 cartoons from the silent era and the early sync-sound period:
Felix in Hollywood (1923)
Felix Doubles for Darwin (1924)
Felix Finds Out (1924)
Felix Gets the Can (1925)
Felix All Puzzled (1925)
Felix Follows the Swallows (1925)
Felix Gets His Fill (1925)
Astronomeous (1928)
One Good Turn (1929)
April Maze (1930)
Similar Products
Product Info
Sales Rank: 173
UPC: 089218844491
Shipping Weight: 0.25/lbs (approx)
International Shipping: 1 item