Lost in Space: Original Unaired Pilot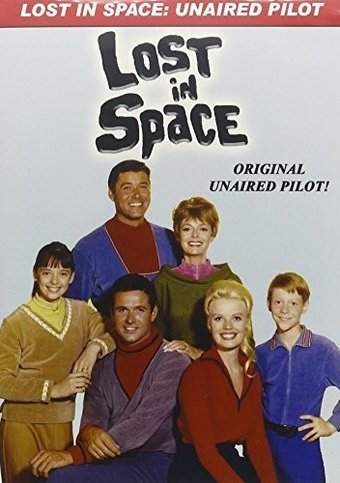 Out of Print:
Future availability is unknown
DVD Features:
Run Time: 52 minutes
Released: July 9, 2015
Originally Released: 1965
Label: Reel Vault
Encoding: Region 1 (USA & Canada)
Performers, Cast and Crew:
Entertainment Reviews:
Product Description:
The un-aired LOST IN SPACE pilot "NO PLACE TO HIDE" kicked around underground video collectors' circles for close to 20 years, but until its release, first through Columbia House on tape in the late '90s and later as part of the FoxVideo DVD set Lost in Space: Season 1, it wasn't available to ordinary viewers. The first eight and a half minutes of the show are substantially the same as events in the first episode of the series, "THE RELUCTANT STOWAWAY," but with two key differences: There is no Dr. Zachary Smith (and, hence, no "reluctant stowaway" -- so no saboteur), and there is no robot. There are also differences in the Robinson family's mission. Their ship, called the Gemini 12 rather than the Jupiter 2, will be traveling for 98 years, with the Robinson party in suspended animation, to Alpha Centauri. (Someone didn't do the math, as they're to be traveling for 98 years at virtually the speed of light, which would enough time to make several round trips to a star only 4.4 light-years away.) The plot changes substantially from what was used in the series at just under nine minutes into the story, as the ship encounters a circular swarm of meteors that leaves it critically damaged. The spaceship is next seen going into a low orbit around a planet and entering the atmosphere on automatic controls (with the family still in stasis) for a crash-landing. The plot then jumps ahead six months, to a recollection of events in Professor John Robinson's journal, read over a montage of space castaway life by Guy Williams. The Robinsons are seen living a spartan, but survivable, existence, and we see events that were ultimately used in episodes four and five of the series .

The castaways determine that the planet's orbit will result in a potentially lethal winter, and then discover a race of one-eyed giants, standing 50-feet tall and living in the mountains near where the ship crashed. Professor Robinson and Don West (Mark Goddard) are trapped in a cave by one of the creatures (Lamar Lundy), but are rescued when Will Robinson (Billy Mumy) arrives with a laser pistol. The travelers abandon their spaceship in the face of the coming deep freeze, and along their journey discover an ancient ruin with the mummified remains of something non-human before crossing the inland sea to safety. The latter segment contains a whirlpool scene -- the work of L.B. Abbott and Howard Lydecker -- that is still chilling. The program ends with the Robinsons setting up a new camp, not realizing that they are being observed and evaluated by a pair of aliens.

With the exception of the ending, all of this action will be familiar to longtime fans of the series from its usage in episodes one, four, and five, although some shots and scenes here run longer than they were in the finished program. Perhaps the best of these is the extended version of John Robinson's rocket-pack ride over the alien landscape in search of his missing daughter Penny, a scene set to Bernard Herrmann's hauntingly beautiful, yet moody, seascape music from BENEATH THE 12-MILE REEF. As John Williams had not yet been engaged to write the score for the episode (or a title theme), all of the music here is tracked in from Herrmann's scores from various 20th Century Fox feature films, including THE DAY THE EARTH STOOD STILL, JOURNEY TO THE CENTER OF THE EARTH, and BENEATH THE 12-MILE REEF. Although less overtly suspenseful than what Williams would write, Herrmann's music gives all of this material a strangely beautiful, poetic quality -- perhaps not as suspenseful as the network wanted, but quite lovely in its way.
Keywords:
Movie Lovers' Ratings & Reviews:
Customer Rating:
Based on 283 ratings.

Lost in a more enjoyable space
Movie Lover:
Richard Smith
from
PLANO, TX US
-- March, 7, 2020
I liked this unaired pilot more than I liked the finished product. In the aired series, the story line was always the same: sensible young Will Robinson manages to save the day despite Dr. Smith, a man with more moral defects than most of us. The episodes teach ethical lessons to youngsters but are not so interesting to adults. The universe in this pilot is without a Dr. Smith, but contains some science fiction action (which, of course, is not as realistic as TV special effects today). A budding romance appears to be beginning between Judy and Major Don. (What would one expect between two attractive people isolated from others of their age group on a distant planet.) Naturally, sending a family into space (inkling two youngsters) is not very realistic. So, this is still a children's program, but one that adults can also enjoy.
Product Info
Sales Rank: 112,987
UPC: 644827488421
Shipping Weight: 0.17/lbs (approx)
International Shipping: 1 item