Space Ghost & Dino Boy - Complete Series (2-Disc)
Interplanetary villains, beware: Space Ghost patrols the cosmos! A police champion for the space age, a fearless warrior for galactic justice, Space Ghost can become invisible, turn himself into a living ray gun or fly faster than a comet.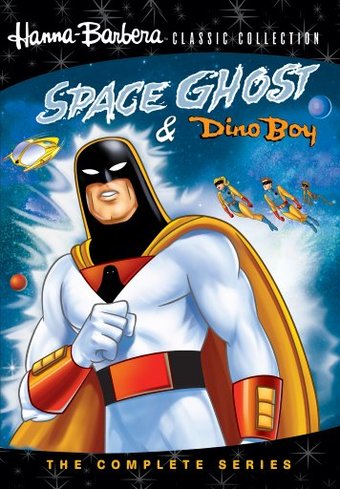 Price:
$

21

.80
List Price:
$24.99
You Save:
$3.19 (13% Off)
Available:
Usually ships in 5-7 business days
Also released as:
DVD-R Details
ORIGINAL ASPECT RATIO - 1.37:1
Number of Discs: 2
Video: Color
Encoding: Region 0 (Worldwide)
Released: December 5, 2017
Originally Released: 1966
Label: Warner Archive Collection (MOD)
Performers, Cast and Crew:
Entertainment Reviews:
Description by OLDIES.com:
Showcasing the episodes in the three-segment form as they originally aired, these retro hits soar through space and time to deliver justice. First, intergalactic policeman Space Ghost navigates the cosmos in his tricked-out spaceship The Phantom Cruiser, battling villains like Brak and Zorak with his legendary suit and powerful wristbands. Then, Dino Boy teams with caveman Ugh and dinosaur Bronty to go primeval on the ancient menaces of their primitive home. And finally, Space Ghost flies again with more extraterrestrial adventures and thrilling takedowns.
Similar Products
Formats:
Genres:
Theme:
Product Info
Sales Rank: 21,868
UPC: 888574551414
Shipping Weight: 0.25/lbs (approx)
International Shipping: 2 items