The Inspector General
The Kaye way to chaos and corruption.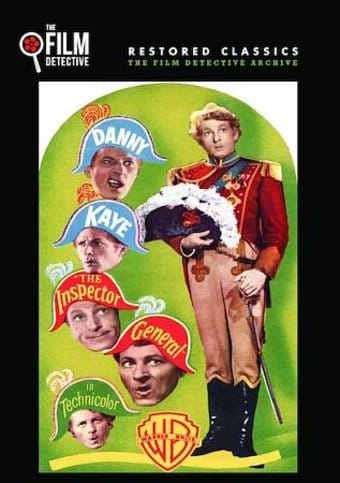 Available:
Usually ships in 5-7 business days
Also released as:
DVD-R Details
Rated: Not Rated
Run Time: 1 hours, 42 minutes
Video: Color
Encoding: Region 0 (Worldwide)
Released: November 22, 2016
Originally Released: 1949
Label: Film Detective
Performers, Cast and Crew:
Entertainment Reviews:
Sharper cutting could have made it a delight; it's still passable entertainment.
Full Review
Rating: 3/5 -- If you can stand Kaye (oh for a tranquilizer gun!), this one's not bad.
Mountain Xpress (Asheville, NC)
Rating: 4/5 -- Danny Kaye has some hilarious moments.
Description by OLDIES.com:
The Inspector General stars Danny Kaye as Georgi, an illiterate member of a traveling medicine show who escapes to a mysterious town after accidentally revealing that the elixir they're selling is a fraud. The town's corrupt officials mistake him for the Inspector General whom they believe is traveling in disguise. Kaye's wife, Sylvia Fine wrote the original songs "The Inspector General" and "Happy Times," both sung by Kaye in the film. The Inspector General is a classic case of comedic genius - a delightful treat for Kaye fans and musical comedy fans alike!
Keywords:
Similar Products
Formats:
Genres:
Product Groupings:
Product Info
UPC: 889290005304
Shipping Weight: 0.11/lbs (approx)
International Shipping: 1 item