For Collectors Only - Rarities, Volume 1 (2-CD)
by Various Artists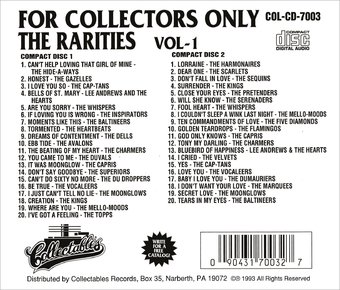 BLACK FRIDAY:
$

8

.98 Sale ends Nov 27
List Price:
$25.97
You Save:
$16.99 (65% Off)
Available:
Usually ships in 1-3 business days
Format: CD-R (2 CD-R Discs)
CD-R Details
Number of Discs: 2
Released: March 14, 2006
Originally Released: 1993
Label: Collectables Records
Description by OLDIES.com:
An amazing selection of songs by vocal groups, many long in-demand by record collectors and music aficionados. On the 40 tracks on these two discs you'll hear some of the most wonderful music that you may never have heard but music that is treasured by the serious record collector. Included are tracks by The Topps, The Moonglows, The Hide-A-Ways, The Sequins, and many more.
Product Description:
Includes liner notes by Jerry Greene.
Liner Note Author: Jerry Greene.
Music Lovers' Ratings & Reviews:
Customer Rating:
Based on 8 ratings.

Can't get enough!
Music Lover: from
Sonoma, CA US
-- November, 21, 2008
This is a wonderful collection! It's perfect for listeners who are tired of the same old, same old that are found on just about every compilation yet not too obscure or never-before-heard selections. This is Volume 1 - where is Volume 2?