WODS Oldies 103.3FM - Motown, Soul & Rock 'N Roll: Rock N' Roll
by Various Artists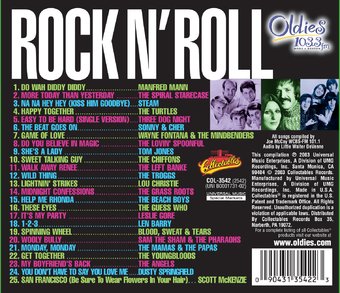 Price:
$

6

.98
List Price:
$16.97
You Save:
$9.99 (59% Off)
Available:
Usually ships in 1-3 business days
CD Details
Released: March 14, 2006
Originally Released: 2003
Label: Collectables Records
Product Description:
This third installment in the series specially crafted by Collectables for WSNI FM focuses on the greatest hits of one of the most revered labels in pop music: Motown. With every single one of the 25 songs contained herein being either a chart-topper or a major hit, it's hard to refute this as nothing more than an extremely well-sequenced compilation covering Motown's glory years, and at an economically sensible price, it serves as an ideal starting point to those unfamiliar with Motown's vast arsenal of soulful hits. Simply outstanding from start to finish.~ Rob Theakston
Music Lovers' Ratings & Reviews:
Customer Rating:
Based on 3 ratings.

wods oldies 103.3
Music Lover:
marty
from
CARVER, MA US
-- January, 23, 2017
great price sound and service
Similar Products
Product Info
Sales Rank: 3,674
UPC: 090431354223
Shipping Weight: 0.25/lbs (approx)
International Shipping: 1 item