Freaks
The love story of a siren, a giant, and a dwarf!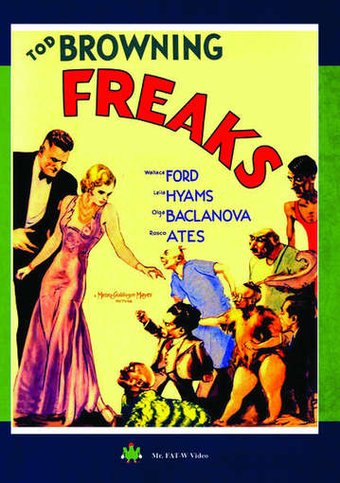 Price:
$

14

.50
List Price:
$14.99
You Save:
$0.49 (3% Off)
Available:
Usually ships in 5-7 business days
DVD Features:
Rated: Not Rated
Run Time: 1 hours, 5 minutes
Video: Black & White
Released: April 13, 2016
Originally Released: 1932
Label: Mr Fat - W Video
Encoding: Region 0 (Worldwide)
Performers, Cast and Crew:
Entertainment Reviews:
Metro-Goldwyn-Mayer definitely has on its hands a picture that is out of the ordinary.
Full Review
Rating: 4/5
-- Undoubtedly flawed, Freaks is also admirably bonkers and quite simply unforgettable.
Full Review
Rating: 5/5
-- One of the most powerful films ever made about the need for humanity and solidarity in the face of cruelty and oppression.
Full Review
Rating: 5/5
-- Browning locked in some of horror cinema's most indelible images.
Full Review
FREAKS has a mythic and compelling narrative....Unforgettable by the end.
Director Tod Browning, one of the few truly individual directors in the U. S., is a specialist in horror.
Full Review
If the heart of the horror movie is the annihilating Other, the Other has never appeared with more vividness, teasing sympathy, and terror than in this 1932 film by Tod Browning.
Full Review
Product Description:
When released theatrically in 1932, FREAKS was met with near universal disgust by critics and audiences alike, lasting in theatres for only a short time in the states and banned in England. The film stars Harry Earles as Hans, a suave midget who belongs to the sideshow of a seedy circus and who makes the mistake of falling in love with the beautiful Cleopatra, one of the "normal" circus performers. Learning that Hans is about to inherit a fortune, Cleopatra agrees to marry Hans even though she abhors him, planning to steal his money and get rid of him. When the freaks of the circus, who keep a watchful eye on Cleopatra, discover her scheme, they plan to exact an unforgettable revenge.

Far more unsettling than Browning's best known horror film, DRACULA, FREAKS has long been neglected due to its subject matter, even though it is a genuinely effective film. Gripping and often creepy, FREAKS manages to humanize its main performers, even looking at them with a sense of awe. By contrast, the "normal" performers in the film are largely hateful creatures who turn out to be much more repellant than their deformed colleagues. Both an excellent horror film and a unique look at the lives of sideshow performers, FREAKS is a chilling movie whose final ten minutes are some of the most harrowing in all of cinema.
Plot Synopsis:
Tod Browning's cult classic about the close-knit world of carnival performers and sideshow "freaks." One of the midgets in the show falls for a beautiful acrobat, and is overjoyed when she agrees to marry him. But her apparent affection is merely a cover for her sinister plans, which lead to a horrifying conclusion. Not for everyone's tastes, but there are scenes of immense power that stand-up strongly to modern "shock" pictures.
Keywords:
Production Notes:
FREAKS was added to the Library of Congress National Film Registry in 1994.
Rated BBFC 15 by the British Board of Film Classification.
Similar Products
Product Info
Sales Rank: 16,274
UPC: 889290615480
Shipping Weight: 0.25/lbs (approx)
International Shipping: 1 item