Gilad Bodies In Motion - Waikiki Beach Workout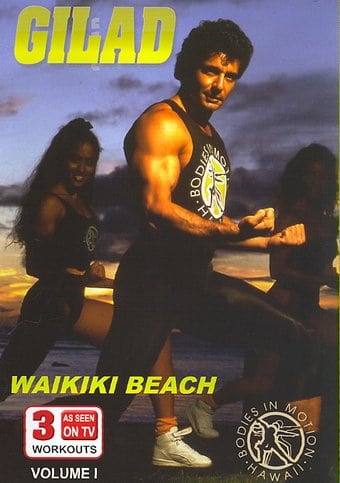 SUPER SAVINGS:
$

12

.10 Limited Time Only
List Price:
$14.99
You Save:
$2.89 (19% Off)
Available:
Usually ships in 2-4 business days
LOW STOCK:
Only 1 copy left
Format: DVD
DVD Features:
Released: November 18, 2008
Originally Released: 2008
Label: Bayview Films
Encoding: Region 1 (USA & Canada)
Packaging: Keep Case
Aspect Ratio: Full Frame - 1.33
Audio:
Entertainment Reviews:
Product Description:
An innovator in the fitness world, Gilad Janklowicz created BODIES IN MOTION, the first fitness show to occupy a regular timeslot on television. Running for 11 years on ESPN, the show gave housewives and athletes an easy way to exercise in their own homes. This collection of episodes head to another breathtaking location--Oahu's Waikiki beach--to demonstrate some invigorating exercises designed to get viewers in shape for the summer weather.
Description by BayView Entertainment:
The world's most popular fitness instructor presents the "Bodies in Motion: As Seen on TV" DVDs, compilations of favorite episodes from the legendary television series, all newly-remastered and never before on DVD! Volume 1: Waikiki Beach - Gilad and the Bodies in Motion exercise team are joined by the beach people on world famous Waikiki Beach with lots of fun and action. Show #901 features Gilad, Ora (Gilad's Mom), Trella, Tracey and Bill, covering Hips, Thighs, Buns, Core and Obliques. Show #902 features Gilad, Ora, Tracey, Felicia and Jason covering Back, Biceps, Triceps, Outer Thighs, Upper Abs and Obliques. Show #903 features Gilad, Ora, Tracey, Gabby and Jim covering Arms (Biceps and Triceps), Inner Thighs, Lower and Middle Abs. Taped on exotic beaches in Hawaii, Bodies in Motion with Gilad is seen in 80 countries world wide. Broadcasting on ESPN, Fox Sports, Eurosports, The Health Network, Discovery Health and Fit TV the show is officially recognized as the #1 fitness show in the US!
Keywords:
Similar Products
Formats:
Genres:
Product Info
UPC: 790451143127
Shipping Weight: 0.25/lbs (approx)
International Shipping: 1 item