Coach Carter
PG-13
It begins on the street. It ends here.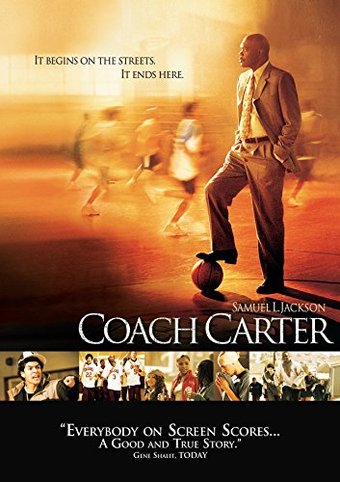 SUPER SAVINGS:
$

6

.50 Limited Time Only
List Price:
$8.99
You Save:
$2.60 (28% Off)
Available:
Usually ships in 2-4 business days
Different formats available:
DVD Features:
Rated: PG-13
Run Time: 2 hours, 16 minutes
Video: Color
Released: August 29, 2017
Originally Released: 2005
Label: Paramount
Encoding: Region 1 (USA & Canada)
Performers, Cast and Crew:
Entertainment Reviews:
Mr. Jackson acts with his usual steely authority....Mr. Gonzalez and Mr. Brown are especially strong...
Rating: 4/5
-- Engaging film with a terrific message.
Full Review
[Jackson's] cool factor never falters.
Movieline's Hollywood Life
Although this is an inspirational genre pic that pushes all the requisite buttons throughout, you canâ(TM)t help but feel that rather than benching the team, director Thomas Carter should have benched a few of those ham-fisted sporting clichà (C)s instead.
Full Review
Rating: 2.5/4
-- No one should have to sit in a movie theater desperately waiting for the half-time buzzer.
Full Review
Rating: 3/5
-- Over long and deeply manipulative, Coach Carter should nonetheless be praised for its far-from-fashionable celebration of personal advancement through academic achievement.
Full Review
Product Description:
In the tradition of LEAN ON ME and DANGEROUS MINDS comes COACH CARTER, an inspirational drama starring Samuel L. Jackson. Jackson portrays real-life figure Ken Carter, who graduated from California's Richmond High only to return there years later, in 1999, and take over as head coach of the boys' basketball team. Unfortunately, the troubled school he remembered as a teenager is an even more insufferable place in his adulthood. Determined to make a change in his players' lives, Carter makes each young man sign a contract that ensures he will maintain a 2.3 GPA, attend every class, and wear a jacket and tie on game day. Of course, the players reject the contract at first, but when they realize that they don't have any other choice, they give in. And when it appears that their tough-as-nails coach is actually turning them into winners on the court, they embrace their coach's philosophy even further. But when Coach Carter receives the incomprehensibly awful progress reports of his players, he does the unthinkable: he benches the entire team. Directed by Thomas Carter (SAVE THE LAST DANCE), COACH CARTER is a sensitive drama that features an impassioned performance by Jackson, as well as the impressive young cast (most notably Rob Brown, Rick Gonzalez, and Robert Ri'Chard).
Keywords:
Production Notes:
THEATRICAL RELEASE: JANUARY 14, 2005 (LIMITED)
Similar Products
Formats:
Genres:
Labels:
Product Info
Sales Rank: 67,645
UPC: 032429256621
Shipping Weight: 0.25/lbs (approx)
International Shipping: 1 item