Cyrano (Includes Digital Copy)
Have you ever loved someone?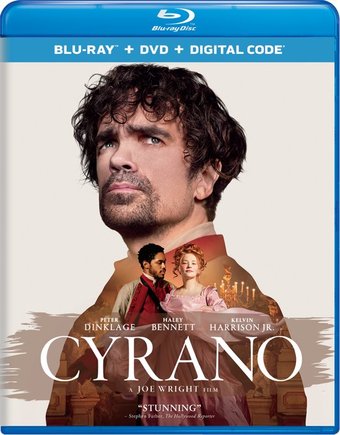 Price:
$

32

.50
List Price:
$34.98
You Save:
$2.48 (7% Off)
Available:
Usually ships in 2-4 business days
Format: Blu-ray (2 Discs)
Blu-ray Details
Number of Discs: 2
Released: April 19, 2022
Originally Released: 2021
Label: Universal Studios
Entertainment Reviews:
The real draw is Dinklage: with his mournful eyes and crooked smile, he's the tender, towering soul of CYRANO.
[T]he magnetic Bennett has a lovely singing voice that helps to sock the romantic ballads home. Dinklage once again confirms his charisma, vigor and versatility.
Dinklage gives you his appeal and his sense of self-loathing. It's both the single most sorrowful and the sexiest take on Cyrano you've ever seen.
Dinklage has a remarkable knack for modulating his reactions -- even for the camera's close eye -- so that they're at once theatrically intensified and richly human.
With its swooping cameras and beyond-dazzling production design, Wright's style is more alive than ever, giving new meaning to the word 'panache.'
Product Description:
Joe Wright directs this period film based on Erica Schmidt's musical adaptation of Edmond Rostand's classic play. Cyrano de Bergerac (Peter Dinklage) is a nobleman and military man who's also a poet and is secretly in love with Roxanne (Haley Bennett). However, his insecurity over dwarf stature prevents him from professing his love, especially when Roxanne confesses that she's interested in a recruit named Christian (Kelvin Harrison Jr.). Elated that Roxanne would like a guy like him, Christian feels anxious about speaking to her. Cyrano agrees to ghostwrite love letters for him.
Keywords:
Similar Products
Formats:
Genres:
Product Groupings:

Product Info
Sales Rank: 20,757
UPC: 191329216224
Shipping Weight: 0.22/lbs (approx)
International Shipping: 2 items