American Heartbeat 1962: 50 Original Recordings (2-CD)
by Various Artists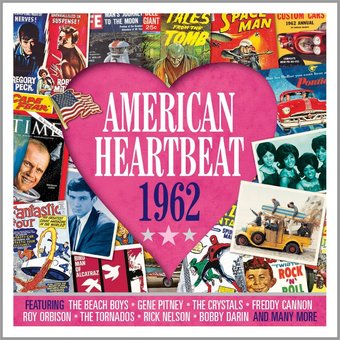 SALE:
$

7

.98
List Price:
$13.98
You Save:
$6 (43% Off)
Currently Out of Stock:
We'll get more as soon as possible
CD Details
Number of Discs: 2
Released: June 24, 2014
Originally Released: 2014
Label: One Day Music
Product Description:
One Day's double-disc compilation American Heartbeat 1962 captures 50 big hits from a year that's not often thought of as one of the great years in rock & roll music. This proves that's not entirely true. There's terrific R&B from Chris Kenner, symphonic pop from Roy Orbison, country crossovers from Leroy Van Dyke and Jimmy Dean, drama from Del Shannon, and some great doo wop. There's also some sticky middle-of-the-road pop -- Lawrence Welk's "Calcutta," for instance -- but its presence here creates the context of 1961, proving that the rock & roll revolution hadn't completely succeeded. It's not great music, to be sure, but it's part of the reason this comp is fun. ~ Stephen Thomas Erlewine
Music Lovers' Ratings & Reviews:
1962 Hot Hits and New Dances
Music Lover:
Forrest Hopson
from
BURNSVILLE, NC US
-- February, 1, 2020
One Day Music's "American Heartbeat" series of Rock 'N' Roll hits from the '50's and '60's is great in quality CD discs, cases and most importantly audio sound. This 1962 2CD set contains the best of year with Dion's "The Wanderer," Freddy Cannon's "Palisades Park," Shelley Fabares' "Johnny Angel" and The Beach Boys' "Surfin' Safari." The dance floor came alive with hot new dances and the songs that inspired them are here with Dee Dee Sharp's "Mashed Potato Time," The Orlons' "Wah-Watusi," Little Eva's "The Loco-Motion," Joey Dee and the Starliters' "Peppermint Twist," and the king of The Twist himself, Chubby Checker is back with "The Limbo Rock" and joins Dee Dee Sharp for some "Slow Twistin.'" Add to the mix the fun Halloween novelty hit "The Monster Mash" by Bobby Pickett & The Crypt-Kickers" and you have the perfect '60's dance party CD! This is one of my favorite's in the series and is played again and again.