Snoop Dogg - Puff Puff Pass Tour (Special Edition 2-DVD)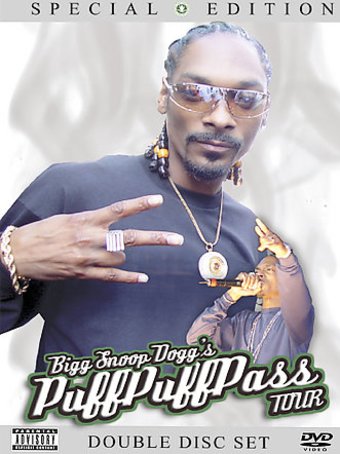 SUPER SAVINGS:
$

4

.98 Limited Time Only
List Price:
$16.99
You Save:
$12.01 (71% Off)
Available:
Usually ships in 1-3 business days
DVD Features:
Number of Discs: 2
Released: March 22, 2005
Originally Released: 2001
Label: Eagle Rock Ent
2-Disc Set
Encoding: Region 1 (USA & Canada)
Packaging: Keep Case
Special Edition
Aspect Ratio: Full Frame - 1.33
Audio:

Dolby Digital 5.1 - English

Additional Release Material:
Interactive Features:

Interactive Menus
Scene Access
Entertainment Reviews:
Rating: 2.5/4
-- If you love Snoop? Yeah, you be needin' this heapin' helpin' of the dude that just oozes cool upon the globe.
Full Review
Product Description:
Sometimes it's hard being Snoop Dogg--hanging with the honeys, rolling up a blunt, and polishing the pimp cup sure can take its toll on a fella. This documentary offers an insider's look at the taxing lifestyle of the gangsta rap icon through interviews, behind-the-scenes footage, and live performances from his PUFF PUFF PASS tour.
Keywords:
Similar Products
Formats:
Genres:
Product Info
Sales Rank: 16,731
UPC: 801213011094
Shipping Weight: 0.36/lbs (approx)
International Shipping: 2 items