The Private Life of Henry VIII
HE GAVE HIS WIVES A PAIN IN THE NECK, And did his necking with an axe. Henry, the Eighth Wonder of the World! And this picture...the wonder of all time!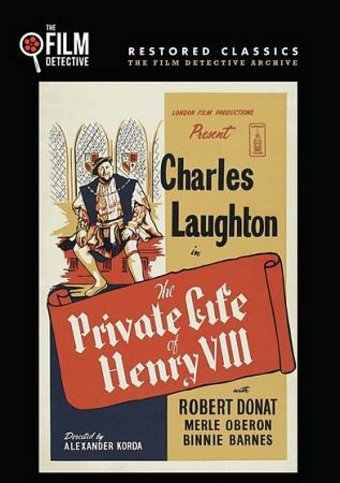 Available:
Usually ships in 5-7 business days
DVD-R Details
Rated: Not Rated
Run Time: 1 hours, 37 minutes
Video: Black & White
Encoding: Region 0 (Worldwide)
Released: June 29, 2017
Originally Released: 1933
Label: Film Detective
Performers, Cast and Crew:
Entertainment Reviews:
Rating: B
-- Charles Laughton, who wa sonly 33 but looked older, won the Best Actor Oscar for playing the titular role with such bravado.
Full Review
Rating: 4/5 -- Laughton's definitive performance is reason to see this elaborate costume drama.
... an illusion of grand production values and produced and released... with a mix of high culture and popular showmanship.
Full Review
Turner Classic Movies Online
Rating: A
-- The film's most famous bit involves Laughton eating a chicken with a primal gusto that clearly defines King Henry's character as a gluttonous man devouring whatever is put before him.
Full Review
Rating: 5/5 -- Educational and hilarious. The quintessential Laughton role!
Rating: 4/5 -- Sometimes stiff but fascinating biopic
Film Journal International
Korda and his humorists make sure the usual biopic solemnity is not part of this royal court
Full Review
Description by OLDIES.com:
The film that made Charles Laughton a star tells the story of King Henry VIII and his stormy personal life. Loughton received an Academy Award for his portrayal of the controversial king, while director Alexander Korda saw his film nominated for Best Picture. With a cast that includes Robert Donat, Merle Oberon, and Elsa Lanchester, this dramatic period piece will leave you glad that you never married into royalty!
Keywords:
Similar Products
Product Info
Sales Rank: 5,977
UPC: 889290224958
Shipping Weight: 0.16/lbs (approx)
International Shipping: 1 item