Soul of the Beast (Silent)
An abused girl runs away from the circus with the help of a mighty elephant in this heartwarming silent melodrama produced by Thomas H. Ince.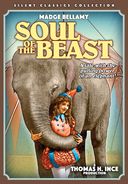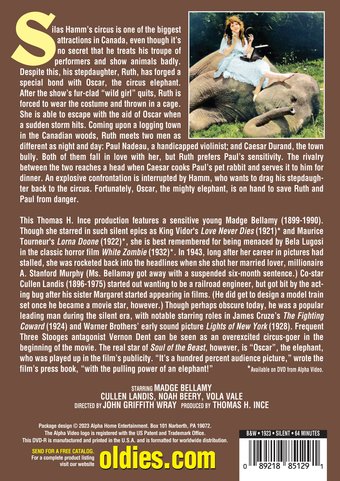 Price:
$

6

.90
List Price:
$8.98
You Save:
$2.08 (23% Off)
Available:
Usually ships in 5-7 business days
DVD-R Details
Run Time: 1 hours, 4 minutes
Video: Black & White
Encoding: Region 0 (Worldwide)
Released: February 14, 2023
Originally Released: 1923
Label: Alpha Video
Performers, Cast and Crew:
Entertainment Reviews:
Description by OLDIES.com:
Silas Hamm's circus is one of the biggest attractions in Canada, even though it's no secret that he treats his troupe of performers and show animals badly. Despite this, his stepdaughter, Ruth, has forged a special bond with Oscar, the circus elephant. After the show's fur-clad "wild girl" quits, Ruth is forced to wear the costume and thrown in a cage. She is able to escape with the aid of Oscar when a sudden storm hits. Coming upon a logging town in the Canadian woods, Ruth meets two men as different as night and day: Paul Nadeau, a handicapped violinist; and Caesar Durand, the town bully. Both of them fall in love with her, but Ruth prefers Paul's sensitivity. The rivalry between the two reaches a head when Caesar cooks Paul's pet rabbit and serves it to him for dinner. An explosive confrontation is interrupted by Hamm, who wants to drag his stepdaughter back to the circus. Fortunately, Oscar, the mighty elephant, is on hand to save Ruth and Paul from danger.
This Thomas H. Ince production features a sensitive young Madge Bellamy (1899-1990). Though she starred in such silent epics as King Vidor's Love Never Dies (1921) and Maurice Tourneur's Lorna Doone (1922), she is best remembered for being menaced by Bela Lugosi in the classic horror film White Zombie (1932). In 1943, long after her career in pictures had stalled, she was rocketed back into the headlines when she shot her married lover, millionaire A. Stanford Murphy (Ms. Bellamy got away with a suspended six-month sentence.) Co-star Cullen Landis (1896-1975) started out wanting to be a railroad engineer, but got bit by the acting bug after his sister Margaret started appearing in films. (He did get to design a model train set once he became a movie star, however.) Though perhaps obscure today, he was a popular leading man during the silent era, with notable starring roles in James Cruze's The Fighting Coward (1924) and Warner Brothers' early sound picture Lights of New York (1928). Frequent Three Stooges antagonist Vernon Dent can be seen as an overexcited circus-goer in the beginning of the movie. The real star of Soul of the Beast, however, is "Oscar" the elephant, who was played up in the film's publicity. "It's a hundred percent audience picture," wrote the film's press book, "with the pulling power of an elephant!"
Similar Products
Product Info
Sales Rank: 2,726
UPC: 089218851291
Shipping Weight: 0.25/lbs (approx)
International Shipping: 1 item