The Devil's Hand (Retro Cover Art + Postcard)
Visions of a lingerie-clad vixen entice an innocent man to join a satanic cult. Part of the Alpha Video "Retrograde" collection featuring retro cover art. Includes collectible postcard!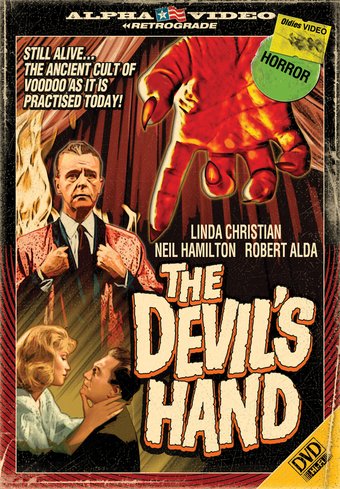 SALE:
$

5

.95
List Price:
$7.98
You Save:
$2.03 (25% Off)
Available:
Usually ships in 1-3 business days
DVD-R Details
Run Time: 1 hours, 12 minutes
Video: Black & White
Encoding: Region 0 (Worldwide)
Released: April 12, 2022
Originally Released: 1961
Label: Alpha Video
Performers, Cast and Crew:
Entertainment Reviews:
Description by OLDIES.com:
Alpha Video Retrograde is an ever-growing collection of specially-selected films from our vast library on DVD, now in collectible retro-style packaging inspired by VHS cover art from that format's heyday! Every Alpha Video Retrograde title also includes a free collectible postcard.
A sinister coven of devil worshippers uses the charms of a beautiful woman to lure men into their unholy death cult. Rick begins dreaming of a temptress, a lovely but deadly vixen named Bianca. When he discovers she really does exist, he is drawn to her through supernatural forces and discovers that she is part of a strange sect that worships the devil god Gamba. He is initiated into the group and is soon caught in a web of human sacrifice and horrifying rituals. Meanwhile, Rick's fiancee, Donna, is growing increasingly concerned over her husband-to-be's strange behavior. Using the power of voodoo, the coven snares the innocent girl into becoming their next sacrifice. Rick must somehow fight the satanic powers of Bianca and save Donna from the clutches of the hellish cult.
Unraveling a tale of occultism and pagan worship that had been the subject of only a handful of previous movies like Val Lewton's The Seventh Victim or Jacques Tourneur's Curse Of The Demon, The Devil's Hand (aka Devil's Doll and Live To Love) is a rarely-seen supernatural thriller ripe with unnerving suspense. The film's star, Linda Christian (aka Blanca Welter), was the first Bond girl, appearing in a 1954 TV version of Casino Royale. She is also the real-life sister of co-star Ariadne Welter. Ariadne's role in The Devil's Hand marked her only U.S. film appearance, but she is well known to Mexican horror movie fans as a scream queen from The Vampire (1957), The Vampire's Coffin (1958) and The Brainiac (1962). Robert Alda was far better known for his Broadway work than his film efforts, which included The Beast With Five Fingers (1946), The House of Exorcism (1975) and Spider-Man Strikes Back (1978). He is the father of actor Alan Alda. Neil Hamilton had a long career in Hollywood, rising to fame after his role in The White Rose (1923) and was for a time D.W. Griffith's preferred leading man. Today he is best remembered for playing Commissioner Gordon on the Batman TV series (1966-1968). Jack Pierce, famed classic Universal monster make-up genius, also handled the face powder on this picture.
Similar Products
Product Info
Sales Rank: 590
UPC: 089218849199
Shipping Weight: 0.25/lbs (approx)
International Shipping: 1 item