Kismet (Silent)
Legendary stage actor Otis Skinner is forever immortalized in this sumptuous Arabian Night fantasy based on the famous play that later became a hit on Broadway.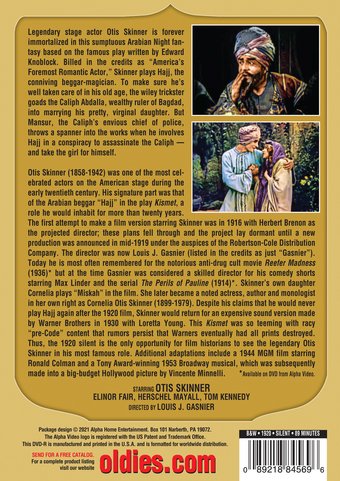 SALE:
$

5

.95
List Price:
$7.98
You Save:
$2.03 (25% Off)
Available:
Usually ships in 1-3 business days
DVD-R Details
Run Time: 1 hours, 29 minutes
Video: Black & White
Encoding: Region 0 (Worldwide)
Released: October 12, 2021
Originally Released: 1920
Label: Alpha Video
Performers, Cast and Crew:
Entertainment Reviews:
Description by OLDIES.com:
Billed as "America's Foremost Romantic Actor," Otis Skinner plays Hajj, the conniving beggar-magician. To make sure he's well taken care of in his old age, the wiley trickster goads the Caliph Abdalla, wealthy ruler of Bagdad, into marrying his pretty, virginal daughter. But Mansur, the Caliph's envious chief of police, throws a spanner into the works when he involves Hajj in a conspiracy to assassinate the Caliph - and take the girl for himself.
Otis Skinner (1858-1942) was one of the most celebrated actors on the American stage during the early twentieth century. His signature part was that of the Arabian beggar "Hajj'' in the play Kismet, a role he would inhabit for more than twenty years. The first attempt to make a film version starring Skinner was in 1916 with Herbert Brenon as the projected director; these plans fell through and the project lay dormant until a new production was announced in mid-1919 under the auspices of the Robertson-Cole Distribution Company. The director was now Louis J. Gasnier (listed in the credits as just "Gasnier.") Today he is most often remembered for the notorious anti-drug cult movie Reefer Madness (1936) but at the time Gasnier was considered a skilled director for his comedy shorts starring Max Linder and the serial The Perils of Pauline (1914.) Skinner's own daughter Cornelia plays "Miskah" in the film. She later became a noted actress, author and monologist in her own right as Cornelia Otis Skinner (1899-1979.) Despite his claims that he would never play Hajj again after the 1920 film, Skinner would return for an expensive sound version made by Warner Brothers in 1930 with Loretta Young. This Kismet was so teeming with racy "pre-Code" content that rumors persist that Warners eventually had all prints destroyed. Thus, the 1920 silent is the only opportunity for film historians to see the legendary Otis Skinner in his most famous role. Additional adaptations include a 1944 MGM film starring Ronald Colman and a Tony Award-winning 1953 Broadway musical, which was subsequently made into a big-budget Hollywood picture by Vincente Minnelli.
Similar Products
Product Info
Sales Rank: 7,364
UPC: 089218845696
Shipping Weight: 0.25/lbs (approx)
International Shipping: 1 item