Yulesville! 33 Rockin' Rollin' Christmas Blasters for the Cool Season
by Various Artists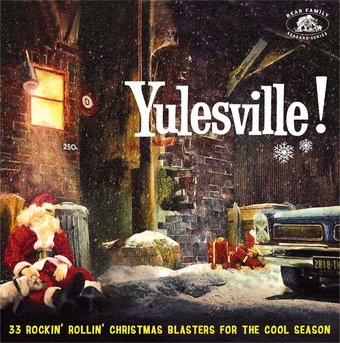 SUPER SAVINGS:
$

7

.40 Limited Time Only
List Price:
$11.99
You Save:
$4.59 (38% Off)
Available:
Usually ships in 1-3 business days
CD Details
Released: November 8, 2019
Originally Released: 2019
Label: Bear Family
Description by OLDIES.com:
Our next Christmas concept disc is on time! In 'Yulesville!', Santa Claus pours himself a strong drink and the Christmas tree rocks around to Rock'n'Roll rhythms! As we usually do, a hand-picked compilation, this time with Rock'n'Roll and Rhythm'n'Blues songs and instrumentals around winter and Christmas from the golden era between 1950 and 1963!
Tracks:
1.

Intro [Radio Commercial]

2.

Be Boppers' Christmas - Cordell Jackson

3.

Winter Wonderland - Allan & the Flames

4.

Sleigh Bell Rock - Three Aces & A Joker

5.

Rudolph, The Red Nosed Reindeer - The Melodeers

6.

Cool, Cool Xmas - Bobbie and Boobie

7.

Boogie Woogie Santa Claus - Patti Page

8.

Twistin' Bells - Santo & Johnny

9.

Merry Christmas Baby - Dodie Stevens / Milt Rogers & His Orchestra

10.

Yulesville - Edd "Kookie" Byrnes

11.

Xmas Bell Rock - Barry & the Highlights

12.

Comin' Down The Chimney - Sonny Bono

13.

All I Want For Christmas Is A Steady Eddie - Barbara Mann

14.

D¢nde Est Santa Claus? [Where Is Santa Claus?] - Augie Rios

15.

Jingle Rock - Tommy Lee & The Orbits

16.

Big White Cadillac - Little Joey Farr

17.

White Christmas - Clyde McPhatter / The Drifters

18.

Lonely Christmas - Kerry Adams

19.

All Winter Long - Linda Laurie

20.

Christmas Kisses - The Bookends / Ray Anthony

21.

Jingle Jangle - The Penguins

22.

Wishing Is For Fools - The Melodeers

23.

Rock And Roll Christmas - Cordell Jackson

24.

Happy New Year - Lightnin' Hopkins

25.

Cactus Christmas Tree, The - The McGuire Sisters

26.

Rock'n Rudolph - The Uniques

27.

Santa's Got A Coupe De Ville - The Four Imperials

28.

I Saw Mommy Kissing Santa Claus - The Four Seasons

29.

Good Morning Blues - Dee Dee Ford

30.

It's Christmas Everywhere - Paul Anka

31.

Rock'n'Roll Santa - Little Joey Farr

32.

Silent Night - Dinah Washington

33.

Happy New Year - Huey "Piano" Smith & the Clowns
Similar Products
Product Info
Sales Rank: 6,697
UPC: 5397102176081
Shipping Weight: 0.25/lbs (approx)
International Shipping: 1 item