Secrets of a Model School
A small-town girl trying to become a model is taken advantage of by degenerates in this rare exploitation picture.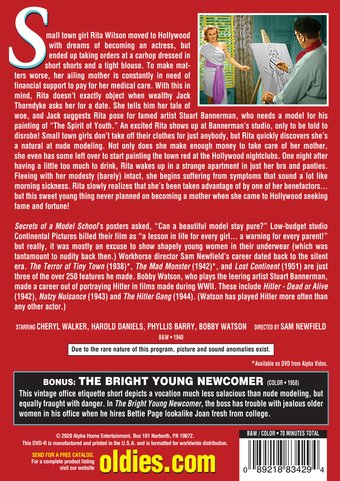 SALE:
$

5

.95
List Price:
$7.98
You Save:
$2.03 (25% Off)
Available:
Usually ships in 1-3 business days
DVD-R Details
Run Time: 1 hours, 10 minutes
Video: Black & White
Encoding: Region 0 (Worldwide)
Released: July 21, 2020
Originally Released: 1940
Label: Alpha Video
Performers, Cast and Crew:
Entertainment Reviews:
Description by OLDIES.com:
Small town girl Rita Wilson moved to Hollywood with dreams of becoming an actress, but ended up taking orders at a carhop dressed in short shorts and a tight blouse. To make matters worse, her ailing mother is constantly in need of financial support to pay for her medical care. With this in mind, Rita doesn't exactly object when wealthy Jack Thorndyke asks her for a date. She tells him her tale of woe, and Jack suggests Rita pose for famed artist Stuart Bannerman, who needs a model for his painting of "The Spirit of Youth." An excited Rita shows up at Bannerman's studio, only to be told to disrobe! Small town girls don't take off their clothes for just anybody, but Rita quickly discovers she's a natural at nude modeling. Not only does she make enough money to take care of her mother, she even has some left over to start painting the town red at the Hollywood nightclubs. One night after having a little too much to drink, Rita wakes up in a strange apartment in just her bra and panties. Fleeing with her modesty (barely) intact, she begins suffering from symptoms that sound a lot like morning sickness. Rita slowly realizes that she's been taken advantage of by one of her benefactors...but this sweet young thing never planned on becoming a mother when she came to Hollywood seeking fame and fortune!
Secrets of a Model's School's posters asked, "Can a beautiful model stay pure?" Low-budget studio Continental Pictures billed their film as "a lesson in life for every girl...a warning for every parent!" but really, it was mostly an excuse to show shapely young women in their underwear (which was tantamount to nudity back then.) Workhorse director Sam Newfield's career dated back to the silent era. The Terror of Tiny Town (1938), The Mad Monster (1942) and Lost Continent (1951) are just three of the over 250 features he made. Bobby Watson, who plays the leering artist Stuart Bannerman, made a career out of portraying Hitler in films made during WWII. These include Hitler - Dead or Alive (1942), Natzy Nuisance (1943) and The Hitler Gang (1944). (Watson has played Hitler more often than any other actor.)
BONUS: The Bright Young Newcomer (1958): This vintage office etiquette short depicts a vocation much less salacious than nude modeling, but equally fraught with danger. In The Bright Young Newcomer, the boss has trouble with jealous older women in his office when he hires Bettie Page lookalike Joan fresh from college. "Just because she's been to college, she tries to lord it over everyone!" says "a competent old employee." "Sometimes I feel sorry for people who have to run an office, especially if it employs a number of girls," says the narrator.
Similar Products
Product Info
Sales Rank: 1,028
UPC: 089218834294
Shipping Weight: 0.25/lbs (approx)
International Shipping: 1 item