The Devil Plays
In this lost pre-Code murder mystery, New York's rich and famous are under suspicion after one of their own is knifed in the back at a dinner party.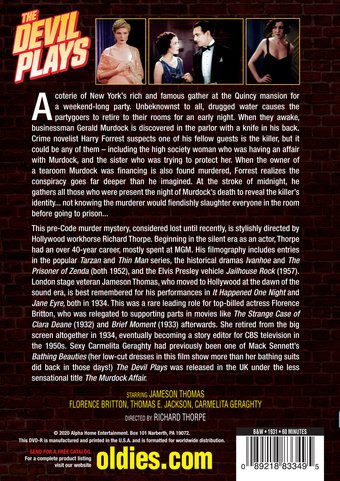 SALE:
$

5

.95
List Price:
$7.98
You Save:
$2.03 (25% Off)
Available:
Usually ships in 1-3 business days
DVD-R Details
Run Time: 1 hours
Video: Black & White
Encoding: Region 0 (Worldwide)
Released: June 23, 2020
Originally Released: 1931
Label: Alpha Video
Performers, Cast and Crew:
Entertainment Reviews:
Description by OLDIES.com:
A coterie of New York's rich and famous gather at the Quincy mansion for a weekend-long party. Unbeknownst to all, drugged water causes the partygoers to retire to their rooms for an early night. When they awake, businessman Gerald Murdock is discovered in the parlor with a knife in his back. Crime novelist Harry Forrest suspects one of his fellow guests is the killer, but it could be any of them - including the high society woman who was having an affair with Murdock, and the sister who was trying to protect her. When the owner of a tearoom Murdock was financing is also found murdered, Forrest realizes the conspiracy goes far deeper than he imagined. At the stroke of midnight, he gathers all those who were present the night of Murdock's death to reveal the killer's identity...not knowing the murderer would fiendishly slaughter everyone in the room before going to prison...
This pre-Code murder mystery, considered lost until recently, is stylishly directed by Hollywood workhorse Richard Thorpe. Beginning in the silent era as an actor, Thorpe had an over 40-year career, mostly spent at MGM. His filmography includes entries in the popular Tarzan and Thin Man series, the historical dramas Ivanhoe and The Prisoner of Zenda (both 1952), and the Elvis Presley vehicle Jailhouse Rock (1957). London stage veteran Jameson Thomas, who moved to Hollywood at the dawn of the sound era, is best remembered for his performances in It Happened One Night and Jane Eyre, both in 1934. This was a rare leading role for top-billed actress Florence Britton, who was relegated to supporting parts in movies like The Strange Case of Clara Deane (1932) and Brief Moment (1933) afterwards. She retired from the big screen altogether in 1934, eventually becoming a story editor for CBS television in the 1950s. Sexy Carmelita Geraghty had previously been one of Mack Sennett's Bathing Beauties (her low-cut dresses in this film show more than her bathing suits did back in those days!) The Devil Plays was released in the UK under the less sensational title The Murdock Affair.
Similar Products
Product Info
Sales Rank: 1,071
UPC: 089218833495
Shipping Weight: 0.25/lbs (approx)
International Shipping: 1 item