Planet Outlaws
Buck Rogers is revived in the far future to save an Earth overrun by outlaws in this feature version of the classic serial.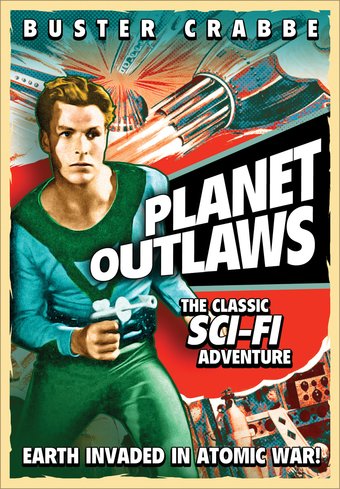 Price:
$

6

.98
List Price:
$8.98
You Save:
$2 (22% Off)
Available:
Usually ships in 5-7 business days
DVD-R Details
Run Time: 1 hours, 9 minutes
Video: Black & White
Encoding: Region 0 (Worldwide)
Released: March 17, 2020
Originally Released: 1953
Label: Alpha Video
Performers, Cast and Crew:
Description by OLDIES.com:
An airship piloted by Lt. Buck Rogers crashes in the Arctic mountains. The top-secret cargo he was transporting, a container of experimental "nirvano gas", shatters. Its fumes keep Buck alive for hundreds of years in suspended animation. He is revived by the people of the 25th Century, who have been all but conquered by the mercenary Killer Kane and his followers. Because the men of the 20th Century failed to stamp out lawlessness in their time, criminals run rampant in the future. Buck vows to stop Kane and free the people of the 25th Century from his vicious rule.
This feature version of the 1939 Buster Crabbe serial was released in 1953, when flying saucer paranoia was spreading across the United States like wildfire. This explains the unusual opening, where a narrator seated in a radio station booth speaks vividly of "flaming discs and weird aerial phenomena" while newspaper headlines like "JETS TO HUNT DOWN SKY SAUCERS" flash on the screen. The film is then presented as "a story of travel in the skies, visits to worlds in outer space, which may well be the blueprint of life to be lived in the years to come." This, as well as an epilogue comparing Killer Kane to the Communist threat, was the work of New York theater owner and independent producer-distributor Sherman S. Krellberg, who had made the notoriously politically incorrect serial The Lost City (1935). The credits list Harry Jacques Revier (who had directed The Lost City) as director of this new footage, with the new dialogue written by Helen Leighton. Editors Renault Revier and Joseph Sorbera (somewhat sloppily) cut the four-hour serial down to a little less than 70 minutes. Unusual in the extreme, Planet Outlaws had an extremely brief theatrical release and is rarely seen today.
Similar Products
Product Info
Sales Rank: 3,879
UPC: 089218832894
Shipping Weight: 0.25/lbs (approx)
International Shipping: 1 item