The Treasure of Jamaica Reef (1974) / Piranha (1972)
Four adventurers try to rescue a long-lost treasure from a sunken Spanish galleon but run afoul of a vicious gang who want it for themselves./A deranged madman hunts three innocent people on a photography expedition in the Amazon jungle.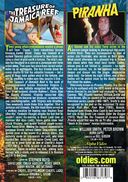 SALE:
$

5

.95
List Price:
$7.98
You Save:
$2.03 (25% Off)
Available:
Usually ships in 1-3 business days
DVD-R Details
Run Time: 3 hours, 5 minutes
Video: Color
Encoding: Region 0 (Worldwide)
Released: February 11, 2020
Originally Released: 1974
Label: Alpha Video
Performers, Cast and Crew:
Entertainment Reviews:
Description by OLDIES.com:
THE TREASURE OF JAMAICA REEF (1974):
Three young urban professionals each receive a phone call from "Zappy", their industrious female treasure hunter friend. Zappy has learned of a sunken Spanish galleon rumored to have been carrying a chest of gold worth a fortune. The ship's captain hid the chest in a cave on a Jamaican reef three miles away. That cave has since been buried underwater by an earthquake. The four friends brave the ocean depths to find the valuable treasure - but a gang of thugs have gotten wind of the fortune, and will do anything to make sure they acquire it first...
The Treasure of Jamaica Reef is the work of underappreciated female filmmaker Virginia L. Stone. She was initially recognized for editing the films of her husband, director Andrew L. Stone (the couple was once called "Hollywood's only man-and-wife moviemakers.") By the time this film was made, however, the Stones had divorced, and Virginia had remarried Alec McCombie. He became her producer, screenwriter, and cinematographer, with Virginia now directing. They eventually made three films together, with Treasure of Jamaica Reef being the first. Shot in Jamaica and Grenada, the film most likely served as a working vacation for leading man Stephen Boyd (Ben-Hur, Fantastic Voyage) despite the fact that he couldn't swim! Tragically, Boyd would die of a massive heart attack just a few years later at the young age of 45. Co-starring is David Ladd (son of matinee idol Alan Ladd), future game show host Chuck Woolery, and former football player-turned-actor Rosey Grier. Making the biggest impression is gorgeous blonde actress Cheryl Stoppelmoor, who spends most of the movie in a skimpy bikini. She certainly made an impression on Ladd, who soon married her. Using her new name Cheryl Ladd, she went on to great fame as one of Charlie's Angels (1977-1981), replacing Farrah Fawcett after she left the show. In 1976, to cash in on the Jaws phenomenon, Stone re-edited the film, adding extra footage with a shark, and re-released it to theaters as Evil in the Deep.
PIRANHA (1972): Art Greene and his sister Terry arrive in the Amazon jungle looking to photograph the exotic wildlife there. They are accompanied by man of action Jim Pendrake, who serves as their guide. What would otherwise be a pleasant trip is thrown into chaos when they meet local hunter Caribe, whose prey is not limited to the indegenous animals - he hunts men and women, too. As the madman trails them deeper and deeper into the jungle, desperation takes hold - for before the night is over, one of their bodies will be picked clean by the deadly piranha that infest the waters...
Alternately known as Piranha Piranha, this film is not to be confused with the 1978 movie of the same name directed by Joe Dante and produced by Roger Corman. This Piranha reunited William Smith and Peter Brown, who co-starred on the popular Western television series Laredo (1965-1967). Smith is also recognized for his part on the acclaimed TV mini-series Rich Man, Poor Man (1976). Buxom, Budapest-born blonde Ahna Capri is best known for her role in the Bruce Lee classic Enter the Dragon (1973). Much like The Treasure of Jamaica Reef, Piranha would find new life on TV after Jaws made "death in the ocean" movies fashionable, despite the fact that it more closely resembles a cross between The Most Dangerous Game and Deliverance.
Similar Products
Product Info
Sales Rank: 2,351
UPC: 089218831798
Shipping Weight: 0.25/lbs (approx)
International Shipping: 1 item