To The Last Man (1933) / The Fighting Westerner (1935)
Randolph Scott stars in two classic westerns from the Golden Age of Hollywood.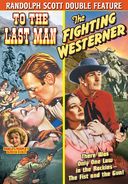 SALE:
$

5

.95
List Price:
$7.98
You Save:
$2.03 (25% Off)
Available:
Usually ships in 1-3 business days
DVD-R Details
Run Time: 2 hours, 12 minutes
Video: Black & White
Encoding: Region 0 (Worldwide)
Released: October 15, 2019
Originally Released: 1933
Label: Alpha Video
Performers, Cast and Crew:
Entertainment Reviews:
Description by OLDIES.com:
TO THE LAST MAN (1933):
Mark Hayden returns home from the Civil War determined to end the decades-long feud between his family and the Colbys. Before a peace can be brokered, his father is hit by a stray bullet from Jed Colby. Instead of taking justice into his own hands, Mark turns Jed over to the law. Jed Colby is released from prison fifteen years later intent on exterminating the Hayden bloodline - to the last man. It'll be more difficult than he thinks, since his daughter and Mark's son are engaged to be married…
Based on an actual clan feud that took place in Arizona during the 1880s, To The Last Man features an all-star cast including Randolph Scott, Esther Ralston, Barton MacLane, Buster Crabbe, Jack La Rue, Noah Beery, Sr., Gail Patrick, Fuzzy Knight, John Carradine and Shirley Temple, in one of her earliest film appearances. Director Henry Hathway immediately recognized Shirley's talent and recommended Paramount sign her to a contract. They refused, leaving Temple to become a big star at 20th Century Fox. Dating as it does from the pre-Code era, To The Last Man has moments that will surely shock modern-day viewers, including some gruesome deaths, and a lengthy scene of Esther Ralston skinny-dipping! In his book The Hollywood Western, film historian William K. Everson praised To The Last Man's "exceptionally strong story...with a cast worthy of an "A" feature."
THE FIGHTING WESTERNER (1935): After an engineer is found dead of radiation poisoning, Larry Sutton is hired at the mine owned by tycoon Jim Ballard. Larry becomes fast friends with deputy sheriff Tex Murdock, who suspects there is more to the engineer's death than meets the eye. When more people mysteriously die, Larry and Tex realize that Ballard is hiding a deadly secret…
Also known as Rocky Mountain Mystery, The Fighting Westerner is one of the last "B" movies Randolph Scott made for Paramount before they moved him into "A" features, beginning with King Vidor's So Red the Rose (1935). Charles "Chic" Sale, who plays Scott's sidekick, was a silent-era comedian whose biggest claim to fame was writing The Specialist, a best-selling humor book about a carpenter who built outhouses. (Unfortunately, his success backfired on him when his name then became popular slang for 'toilet' in the 1930s and 40s.) The Fighting Westerner is also one of the relatively few film appearances of the alluring Kathleen Burke, best known for playing Lota the Panther Woman in Island of Lost Souls (1932).
Similar Products
Product Info
Sales Rank: 3,727
UPC: 089218828095
Shipping Weight: 0.25/lbs (approx)
International Shipping: 1 item