I Led 3 Lives, Volume 1
Richard Carlson plays Herbert Philbrick, a Boston ad exec who lives a triple life as an average citizen, member of the Communist party, and spy for the FBI in four episodes of this thrilling 50s TV series, based on the best-selling book.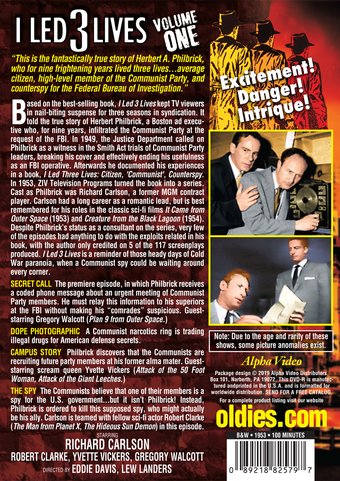 Price:
$

6

.98
List Price:
$8.98
You Save:
$2 (22% Off)
Available:
Usually ships in 5-7 business days
DVD-R Details
Run Time: 1 hours, 40 minutes
Video: Black & White
Encoding: Region 0 (Worldwide)
Released: August 20, 2019
Originally Released: 1953
Label: Alpha Video
Performers, Cast and Crew:
Entertainment Reviews:
Description by OLDIES.com:
"This is the fantastically true story of Herbert A. Philbrick, who for nine frightening years lived three lives...average citizen, high-level member of the Communist Party, and counterspy for the Federal Bureau of Investigation."
Based on the best-selling book,
I Led 3 Lives
kept TV viewers in nail-biting suspense for three seasons in syndication. It told the true story of Herbert Philbrick, a Boston ad executive who for nine years infiltrated the Communist Party at the request of the FBI. In 1949, the Justice Department called on Philbrick as a witness in the Smith Act trials of Communist Party leaders, breaking his cover and effectively ending his usefulness as an FBI operative. Afterwards he documented his experiences in a book,
I Led Three Lives: Citizen, 'Communist', Counterspy
. In 1953, ZIV Television Programs turned the book into a series. Cast as Philbrick was Richard Carlson, a former MGM contract player. Carlson had a long career as a romantic lead, but he is nevertheless best remembered for his roles in classic sci-fi films such as
It Came from Outer Space
(1953) and
Creature from the Black Lagoon
(1954). Despite Philbrick's status as a consultant on the series, very few of the episodes had anything to do with the exploits related in his book, with the author only credited on 5 of the 117 screenplays produced.
I Led 3 Lives
is a reminder of those heady days of Cold War paranoia, when a Communist spy could be waiting around every corner.
SECRET CALL: The premiere episode, in which Philbrick receives a coded phone message about an urgent meeting of Communist Party members. He must relay this information to his superiors at the FBI without making his "comrades" suspicious. Guest-starring Gregory Walcott (Plan 9 from Outer Space.)
DOPE PHOTOGRAPHIC: A Communist narcotics ring is trading illegal drugs for American defense secrets.
CAMPUS STORY: Philbrick discovers that the Communists are recruiting future party members at his former alma mater. Guest-starring scream queen Yvette Vickers (Attack of the 50 Foot Woman, Attack of the Giant Leeches.)
THE SPY: The Communists believe that one of their members is a spy for the U.S. government...but it isn't Philbrick! Instead, Philbrick is ordered to kill this supposed spy, who might actually be his ally. Carlson is teamed with fellow sci-fi actor Robert Clarke (The Man from Planet X, The Hideous Sun Demon) in this episode.
Note: Due to the age and rarity of these shows, some picture anomalies exist.
Similar Products
Product Info
Sales Rank: 2,050
UPC: 089218825797
Shipping Weight: 0.25/lbs (approx)
International Shipping: 1 item