Horror Double Feature: Savage Weekend (1979) / Mad Dog (1977)
Two couples spend a weekend in the country only to be hunted by a masked lunatic./A "mad dog' killer escapes from jail to embark on a spree of murder, rape, and brutality.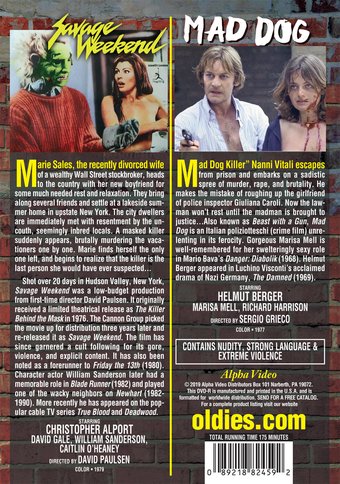 Price:
$

6

.90
List Price:
$8.98
You Save:
$2.08 (23% Off)
Available:
Usually ships in 5-7 business days
DVD-R Details
Run Time: 2 hours, 55 minutes
Video: Color
Encoding: Region 0 (Worldwide)
Released: July 23, 2019
Originally Released: 1977
Label: Alpha Video
Performers, Cast and Crew:
Entertainment Reviews:
Description by OLDIES.com:
SAVAGE WEEKEND (1979):
Marie Sales, the recently divorced wife of a wealthy Wall Street stockbroker, heads to the country with her new boyfriend for some much needed rest and relaxation. They bring along several friends and settle at a lakeside summer home in upstate New York. The city dwellers are immediately met with resentment by the uncouth, seemingly inbred locals. A masked killer suddenly appears, brutally murdering the vacationers one by one. Marie finds herself the only one left, and begins to realize that the killer is the last person she would have ever suspected...
Shot over 20 days in Hudson Valley, New York, Savage Weekend was a low-budget production from first-time director David Paulsen. It originally received a limited theatrical release as The Killer Behind the Mask in 1976. The Cannon Group picked the movie up for distribution three years later and re-released it as Savage Weekend. The film has since garnered a cult following for its gore, violence, and explicit content. It has also been noted as a forerunner to Friday the 13th (1980). Character actor William Sanderson later had a memorable role in Blade Runner (1982) and played one of the wacky neighbors on Newhart (1982-1990). More recently he has appeared on the popular cable TV series True Blood and Deadwood. Contains nudity, strong language, and extreme violence.
MAD DOG (1977): "Mad Dog Killer" Nanni Vitali escapes from prison and embarks on a sadistic spree of murder, rape, and brutality. He makes the mistake of roughing up the girlfriend of police inspector Giuliana Caroli. Now the lawman won't rest until the madman is brought to justice...Also known as Beast with a Gun, Mad Dog is an Italian poliziotteschi (crime film) unrelenting in its ferocity. Gorgeous Marisa Mell is well-remembered for her swelteringly sexy role in Mario Bava's Danger: Diabolik (1968). Helmut Berger appeared in Luchino Visconti's acclaimed drama of Nazi Germany, The Damned (1969). Contains nudity, strong language, and extreme violence.
Similar Products
Product Info
Sales Rank: 12,861
UPC: 089218824592
Shipping Weight: 0.25/lbs (approx)
International Shipping: 1 item