War Double Feature: The Battle of El Alamein (1969) / Commandos (1968)
British, Italian, and German forces collide at the El Alamein train railway station, beginning one of the most important battles of World War II./A crack team of Italian-American commandos take the place of soldiers at an enemy camp.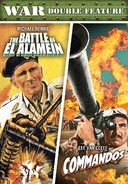 SALE:
$

5

.95
List Price:
$7.98
You Save:
$2.03 (25% Off)
Available:
Usually ships in 1-3 business days
DVD-R Details
Run Time: 3 hours, 12 minutes
Video: Color
Encoding: Region 0 (Worldwide)
Released: June 18, 2019
Originally Released: 1969
Label: Alpha Video
Performers, Cast and Crew:
Entertainment Reviews:
Description by OLDIES.com:
"Euro War" (or "Macaroni Combat") films were Italian knock-offs of more expensive Hollywood productions. Despite their meagre budgets, they were often distinguished by inventive camerawork and cinematography. Though their casts were primarily populated by Italian performers, they always featured at least one Hollywood actor, usually a fading or minor star in need of work.
COMMANDOS (1968): Sgt. "Sarge" Sullivan is put in charge of a crack team of Italian-American commandos. Their mission? To infiltrate a North African base held by the Italians in the dead of night, kill the soldiers while they sleep, and take their places. Once that mission is complete, their standing orders are to wait for reinforcements. As hours turn into days, Sullivan's commandos slowly realize that help isn't coming. A German attack force will be checking in at the base any day now, and surely they will see through the Americans' deception. Sullivan and his commandos have no choice but to engage the Germans in one last fight...one not all of them will survive...
Commandos is a war picture with many unusual, surreal touches, possibly the work of screenwriter Dario Argento (long before he became a horror legend for Suspiria and Tenebrae.) Lead actor Lee Van Cleef's first film role was in the classic cowboy masterpiece, High Noon (1952). Considered one of the silver screen's most iconic "heavies", he is best remembered today as "Bad" in Serge Leone's 1966 epic The Good, The Bad and the Ugly. Jack Kelly played James Garner's brother for five seasons of the hit TV show Maverick (1957-1962) and in reunion movies decades after.
THE BATTLE OF EL ALAMEIN (1969): June 1942. Rommel's forces advance on the Nile. The fall of Egypt and the capture of the Suez Canal seem inevitable. Both Italian and British units race toward Alexandria to intercept them, with Mussolini concerned that Italy might lose its share of the spoils. They collide at the El Alamein railway station...and one of the most important battles of World War II begins...
The Battle of El Alamein places a special emphasis on the Italian forces, making it the rare war film that focuses on the losing side. It also features a stirring performance by Michael Rennie as Field Marshal Bernard Montgomery. The eminent English actor will forever be remembered as the alien visitor Klaatu in The Day the Earth Stood Still (1951).
Similar Products
Product Info
Sales Rank: 10,859
UPC: 089218823694
Shipping Weight: 0.25/lbs (approx)
International Shipping: 1 item