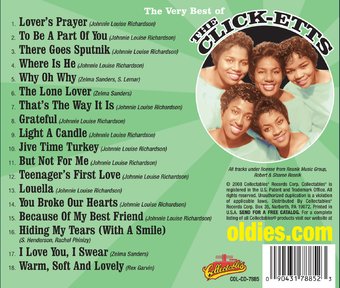 SALE:
$

5

.98
List Price:
$14.97
You Save:
$8.99 (60% Off)
Available:
Usually ships in 1-3 business days
CD Details
Released: July 15, 2008
Originally Released: 2008
Label: Collectables Records
Description by OLDIES.com:
In the late 1950s at the dawn of the Rock and Roll era, the Brill Building was ground zero for aspiring singers, songwriters and producers. Four young girls from the Bronx were trying to get the attention of anyone who would listen to a demo they had made.

The group at that time was known as The Bouquets and the song was "But Not For Me," composed by one of the members, Barbara English. Fortunately on that day Zelma "Zell" Sanders listened. Once a security guard, Zelma found success in the music business and in 1957 had one of the best-selling records of the year with "Over The Mountain," by Johnnie and Joe.

"Johnnie" was Johnnie Louise Richardson, Zell's daughter who also assisted her in running her record company, J&S Records. Zell believed that The Bouquets whose members were Barbara English, Charlotte and Trudy McCartney and Sylvia Hammond, would be a perfect group to start a new label with, the management of which she would entrust to her daughter. The recording company was named Dice, and the group was re-christened The Click-etts.

Their first release was the "But Not For Me" demo that Zell purchased from manager Gordon King, and its B-side was "I Love You I Swear." Their next single was "A Teenager's First Love" backed with "Jive Time Turkey." Barbara Jean English was the lead vocalist on most of these Click-etts' recordings.

Their next single "Louella / You Broke Our Hearts" featured a male vocalist and was issued under the name of The Avalons, perhaps because it was released only a month after their previous 45.

Although it did not chart high nationally, the girl's next single "Because Of My Best Friend / To Be A Part Of You" was popular in selected areas of the U.S.A. and a radio hit in Philadelphia, a Rock and Roll musical hotbed of the era.

The Click-etts turned to the Johnnie and Joe songbook for their followup. Their versions of "Warm, Soft and Lovely" and "Why Oh Why" were as memorable as the originals.

The end of the 1950s would coincide with the Click-etts leaving Zell Sanders and Dice Records due to creative and financial differences. Two songs unreleased at the time were "Light A Candle" and "That's The Way It Is." The McCartney sisters also left the group to be replaced by Jeanne Bolden and Barbara Saunders.

In 1960, The Click-etts released "Where Is He" on the Guyden record label, backed with "The Lone Lover" a novelty song written by the current group along with Elvis Presley songwriter Otis Blackwell.

The Click-etts would go on to record for The Warwick, Elmor, and Roulette record labels under a new name, The Fashions, due to litigation from Zell Sanders, who established a legal claim against their former name.

By 1964, Barbara Jean English began a solo career as a recording artist and an in-demand demo vocalist. Her recordings today are considered rare gems in the British Northern Soul scene, and command high prices in their original vinyl format.

True "Girl Group" aficionados know that The Click-etts were one of the best of the era and this compilation proves it.
Tracks:
1.

Lover's Prayer

2.

To Be A Part Of You

3.

There Goes Sputnik

4.

Where Is He

5.

Why Oh Why

6.

The Lone Lover

7.

That's The Way It Is

8.

Grateful

9.

Light A Candle

10.

Jive Time Turkey

11.

But Not For Me

12.

Teenager's First Love

13.

Louella

14.

You Broke Our Hearts

15.

Because Of My Best Friend

16.

Hiding My Tears (With A Smile)

17.

I Love You, I Swear

18.

Warm, Soft And Lovely
Product Description:
Liner Note Author: Al Fichera.
The Clickettes had no Top 40 hits during their late 1950s lifespan, but girl group historians prize lead singer Barbara Jean English's strong, soulful vocals. This anthology covers the entirety of the group's short duration, from 1958 to 1960, and includes biographical liner notes. Highlights include "A Lover's Prayer," "To Be A Part of You," and "Louella."
Similar Products
Product Info
Sales Rank: 35,008
UPC: 090431788523
Shipping Weight: 0.25/lbs (approx)
International Shipping: 1 item