The Trespasser (1929)
The sex symbol of the silent era plays "kept woman" to a millionaire in her long-lost first talking picture.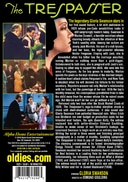 Price:
$

6

.90
List Price:
$8.98
You Save:
$2.08 (23% Off)
Available:
Usually ships in 5-7 business days
DVD-R Details
Run Time: 1 hours, 30 minutes
Video: Black & White
Encoding: Region 0 (Worldwide)
Released: May 26, 2015
Originally Released: 1929
Label: Alpha Video
Performers, Cast and Crew:
Entertainment Reviews:
Description by OLDIES.com:
The legendary Gloria Swanson stars in her first sound feature, a hit with audiences in 1929 whose pre-Code sensibilities make it still surprisingly modern today. Swanson is Marion Donnell, a humble secretary whose stunning beauty attracts the attention of New York's wealthy elite. Among her suitors are young Jack Merrick, the son of a rich tycoon, and her boss, the high-powered attorney Hector Ferguson. Eloping with Jack, she is devastated when his father has the marriage annulled, seeing Marion as nothing more than an opportunistic gold-digger. Unbeknownst to both men, she is pregnant with Jack's son. Seeing no other way to support the child, she runs into the arms of Ferguson. As the boy grows to maturity, Marion spends the years as the kept mistress of the married lawyer. A sudden heart attack claims Ferguson's life, and New York is shocked when his will decrees his fortune to his former secretary. Inquisitive reporters uncover not only Marion's relationship with her boss, but the parentage of her son. With the boy's identity revealed, his unscrupulous grandfather arrives to take the child away from the woman whose life he ruined years ago. But having now amassed a fortune, Marion won't let her son go without a fight.
Released only two days after the Stock Market Crash of 1929, The Trespasser's rags-to-riches storyline struck a chord with shell-shocked audiences. It also saved star Gloria Swanson from potential financial ruin. When Erich von Stroheim ran over budget on production costs for her intended next feature, the epic Queen Kelly, the actress replaced him with writer-director Edmund Goulding. Unable to make sense of von Stroheim's footage, he convinced Swanson to begin work on an entirely new film. Writing the script in three weeks and finishing principal photography in a matter of months, Goulding completed The Trespasser in time to pay off Queen Kelly's investors. The stunning camerawork is by famed cinematographer Gregg Toland, best known for Citizen Kane (1941). Swanson received her second Academy Award nomination for Best Actress in a Leading Role for her performance. Unfortunately, her following films such as What a Widow! (1930) and Indiscreet (1931) were flops at the box-office. The actress would be out of the public eye until director Billy Wilder, who remembered The Trespasser fondly, cast her in his masterpiece Sunset Boulevard (1950).
Keywords:
Similar Products
Product Info
Sales Rank: 6,206
UPC: 089218762993
Shipping Weight: 0.25/lbs (approx)
International Shipping: 1 item