Patti Page Say Wonderful Things / Love After Midnight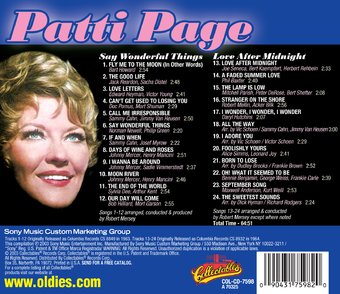 Price:
$

14

.10
List Price:
$16.99
You Save:
$2.89 (17% Off)
Available:
Usually ships in 2-4 business days
Products with a similar style:
Related products:
CD Details
Released: March 14, 2006
Originally Released: 2003
Label: Collectables Records
Original Album #1: Columbia Records CS 8849 (1963)
Original Album #2: Columbia Records CS 8932 (1964)
Description by OLDIES.com:
Patti Page was perhaps the best-selling and most popular female pop vocalists of the 1950s - she had a string of hits (including "Allegheny Moon," "Old Cape Cod" and "Hush, Hush, Sweet Charlotte") that lasted well into the early 1960s. "Say Wonderful Things" was Patti Page's debut album on the Columbia label, and it hit #83 on the Billboard Pop Albums chart in 1963. Both it and "Love After Midnight" were arranged and conducted by Robert Mersey.
Tracks:
1.

Fly Me To The Moon (In Other Words)

2.

The Good Life

3.

Love Letters

4.

Can't Get Used To Losing You

5.

Call Me Irresponsible

6.

Say Wonderful Things

7.

If And When

8.

Days Of Wine And Roses

9.

I Wanna Be Around

10.

Moon River

11.

The End Of The World

12.

Our Day Will Come

13.

Love After Midnight

14.

A Faded Summer Love

15.

The Lamp Is Low

16.

Stranger On The Shore

17.

I Wonder, I Wonder, I Wonder

18.

All The Way

19.

I Adore You

20.

Foolishly Yours

21.

Born To Lose

22.

Oh! What It Seemed To Be

23.

September Song

24.

The Sweetest Sounds
Product Description:
2 LPs on 1 CD: SAY WONDERFUL THINGS (1963)/LOVE AFTER MIDNIGHT (1962).
Recording information: 04/04/1963-11/20/1963.
Arrangers: Dick Hyman; Dudley Brooks; Frankie Brown; Robert Mersey; James Van Heusen; Vic Schoen; Sammy Cahn; Richard Rodgers.
This two-fer from Collectables features a pair of out of print Patti Page LPs: Say Wonderful Things and Love After Midnight, issued in 1963 and 1964, respectively, and originally released on Columbia. These albums zero in on easy listening versions of standards from the songbooks of Sammy Cahn, Jimmy Van Heusen, Henry Mancini, Johnny Mercer, Edward Heyman and Victor Young. Not an essential purchase for casual listeners, but fans who have been waiting for these LPs to make the switch to CD will appreciate it. ~ Al Campbell
Music Lovers' Ratings & Reviews:
Customer Rating:
Based on 10 ratings.

TWO OF PATTI'S BEST ALBUMS!
Music Lover:
Bill Busse
from
Minnesota
-- December, 13, 2003
In 1962 Patti Page left Mercury Records for Columbia after 15 years on Mercury and scores of hits, many million sellers, and many great albums.
Patti gave her reasons for going with Columbia. The number 1 reason being Columbia's expertise in the production and marketing of albums. Patti wanted to concentrate on album product and the first two albums released on Columbia included in this cd release are evidence she made the correct choice. SAY WONDERFUL THINGS and LOVE AFTER MIDNIGHT truly brought Patti into the ranks of top album sellers as these albums were not only popular in the US but also in Japan, Hong Kong, etc. In fact the title tune of the debut album, SAY WONDERFUL THINGS, was a No. 1 single in Hong Kong, Top 10 in Japan, Spain, etc, etc. The success of the album was guaranteed. Patti's smooth readings of the new standards of the early 60s still rank with the best readings of those songs, even in the new millenium. One of the real treats on this album is IF AND WHEN. This song was also a Columbia single before the days of Billboard's EASY LISTENING chart....but it was on turntables every where.
Although LOVE AFTER MIDNIGHT was not named after a hit single, you can see the care in selection and arrangements that resulted in this popular collection. Billboard magazine gave both of these original LPs, their SPOTLIGHT!. How wonderful to hear these two lps on cd.
If you enjoy these, you will especially like the companion volume TODAY MY WAY/HONEY COME BACK: not only for those great albums but especially the addition of 3 previously unreleased Columbia tracks: UP UP AND AWAY, TOY BALLOON, ON THE OTHER SIDE.

Similar Products
Product Info
Sales Rank: 10,299
UPC: 090431759820
Shipping Weight: 0.25/lbs (approx)
International Shipping: 1 item