Heroes - Season 1 (7-DVD)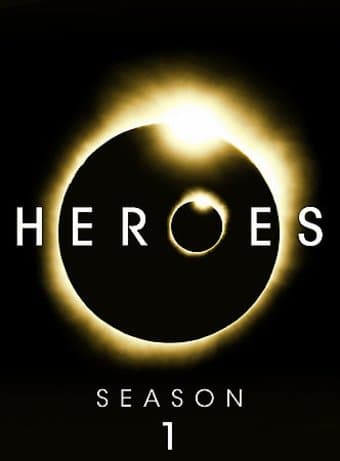 | | |
| --- | --- |
| SALE: | $9.98 |
| List Price: | $19.98 |
| You Save: | $10 (50% Off) |
DVD Features:
Number of Discs: 7
Released: August 28, 2007
Originally Released: 2006
Label: Universal Studios
Encoding: Region 1 (USA & Canada)
7-Disc Digipak With Outer Box
Aspect Ratio: Anamorphic Widescreen - 1.78
Audio:

Dolby Digital 5.1 Surround - English
Subtitles - English (SDH), French, Spanish - Optional

Disc 1:

Additional Release Material:

Bonus Footage - Unaired Pilot: THE TIM KRING CUT With Audio Commentary By Show Creator Tim Kring
Deleted Scenes

Disc 2:

Additional Release Material:

Disc 3:

Additional Release Material:

Disc 4:

Additional Release Material:

Audio Commentary - Cast & Crew
Deleted Scenes

Disc 5:

Additional Release Material:

Audio Commentary - Cast & Crew
Deleted Scenes

Interactive Features:

Minder Reader (Interactive Activity)

Disc 6:

Additional Release Material:

Audio Commentary - Cast & Crew
Deleted Scenes

Disc 7: Bonus Features:

Audio Commentary - Cast & Crew
Behind The Scenes - Making Of
Featurette:
Special Effects
The Stunts
Profile of Artist Tim Sale
The Score
Trailer - Opt-In Trailer
Performers, Cast and Crew:
Starring

Ali Larter

,

Hayden Panettiere

,

Adrian Pasdar

,

Sendhil Ramamurthy

,

Randall Bentley

,

Thomas Dekker

,

James Kyson Lee

,

Masi Oka

,

Santiago Cabrera

,

Zachary Quinto

,

Greg Grunberg

,

Missy Peregrym

,

Cristine Rose

,

Jack Coleman

,

Milo Ventimiglia

,

Matthew John Armstrong

,

Noah Gray-Cabey

,

Tawny Cypress

,

Jimmy Jean-Louis

,

Leonard Roberts

&

Elizabeth Lackey

Directed by

Paul A. Edwards

,

Greg Beeman

,

Paul Shapiro

,

Allan Arkush

&

John Badham
Entertainment Reviews:
5 stars out of 5 -- [T]he story arc in this first season develops wonderfully....It accelerates with exciting intensity...
4 stars out of 5 -- This is a classy light drama, but one that resonates brilliantly with a universal childhood fantasy: what happens if I wake up one day with super powers'
4 stars out of 5 -- HEROES is pure comic-book....Carefully structures serialisation, comedy-contrived cliff-hangers, archetypal characters...
3.5 stars out of 4 -- [HEROES] works on almost every level....Just like a great comic book.
5 stars out of 5 -- An addictive, thrillingly and cunningly crafted serialized drama...
Viewers were constantly rewarded for their vigilance with a series of mini-arcs that provided closure while dangling new threads. -- Grade: A-
Product Description:
Combining comic book style and geeky in-jokes, HEROES is a stellar series that draws comparisons to fan favorites such as LOST and THE X-FILES. But thanks to its well-drawn characters and intricate plot, this drama reels in more than just superhero fans. HEROES revolves around the premise of seemingly ordinary people developing fantastic powers. There's Claire (Hayden Panettiere, ICE PRINCESS), a Texas cheerleader who can't be killed. Matt (Greg Grunberg, ALIAS) is a cop in Los Angeles who can read minds. New Yorker Peter (Milo Ventimiglia, GILMORE GIRLS) has the power to adopt other heroes' abilities, while his politician brother (Adrian Pasdar, JUDGING AMY) has a special power of his own. Though the show boasts many other characters, its secret weapon is Hiro (Masi Oka), a Japanese office worker who is delighted to discover he can move through space and time. But heroes wouldn't be heroes if there weren't villains and a coming apocalypse to fight, and the show features a truly creepy bad guy in the seemingly omnipotent Sylar (Zachary Quinto). In addition to all the episodes from the first season, this release also includes a never-before-seen, 73-minute version of the show's pilot.
Keywords: